Germany weather: Ice causes transport chaos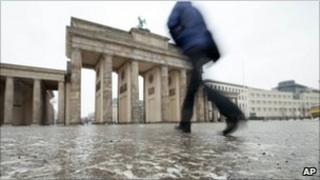 Berlin's fire brigade has declared a state of emergency after freezing rain covered much of the city in ice.
Elsewhere in Germany, police have appealed for people not to go out unless it is absolutely necessary.
About 30 people were injured when a lorry skidded out of control on an icy patch of the A8 motorway in the south-west and collided with a tour bus.
The German weather service is forecasting more storms but with milder temperatures.
Dangerous roads
The accident on the motorway between Stuttgart and Munich occurred at about 0715 on Thursday morning when a lorry swerved to avoid an earlier accident.
The driver was unable to brake because of the ice and hit an oncoming bus, injuring about 30 people, four of them seriously.
Police said rainfall that morning had frozen on hitting the ground, making the roads extremely dangerous.
Berlin's Tegel airport closed for part of Thursday morning, while sections of the S-Bahn rapid transit system were closed for four days because of the weather.
The Berlin fire brigade says it deployed crews to 170 incidents in which people were injured on Thursday morning before 1130 (1030 GMT), compared with 130 incidents for the 24 hours of Wednesday.
An extra 20 ambulances were put into service, along with 10 volunteer fire crews.
In Lower Saxony, all schools have been closed because of sheet ice on the roads.
In many parts of the country, the ice is reported to be as thick as 2cm (0.75in).