Chemical plant blaze at Moerdijk sparks Dutch alert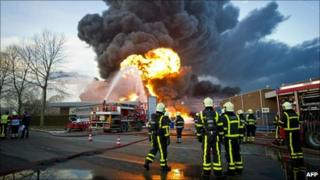 Southern areas of the Netherlands are on the top state of alert after a blaze at a chemical plant near Rotterdam sent out a thick plume of smoke.
The cloud from the fire at Moerdijk was floating north and had reached the city of Dordrecht, Dutch media said.
Some 400,000 litres of carcinogenic material are stored at the Chemie-Pack plant, De Telegraaf newspaper says.
Some reports said toxic fumes had been released, but others said they were not dangerous.
Radio Netherlands Worldwide described the fumes as a "huge cloud of toxic black smoke".
However, Associated Press news agency quoted Moerdijk Mayor Wim Denie as saying measurements had not detected fumes that could form a health risk.
The cause of the blaze has not yet been established.
Huge flames
Residents in Dordrecht were being warned to keep windows and doors shut.
Sarah Raymond, a BBC News website reader who lives in Dordrecht, said people in the area were frightened as they were unsure about any potential risks to their health.
"It is quite scary. The sky is thick with black smoke and we still don't know if it is toxic or not.
"There is a very unpleasant, chemical smell in the air. I could see the chemical site from my window at work this afternoon across the water and I only live 2 miles (3.2km) from there.
"But we have not been given any information from the authorities and there is no number to call to find out more. It is frightening."
The flames were said to be up to 40m (131ft) high and there were reports of repeated, loud explosions. Radio Netherlands Worldwide said the fire department had believed the blaze had been brought under control, but that it had then flared up again.
The Dutch government set up a co-ordination centre for emergency services and southern areas of the province of South Holland were placed on their highest state of alert.
Chemie-Pack, which is about 40km (25 miles) south of the port of Rotterdam, processes and packs products for the chemical industry, the company says on its website.
All 50 Chemie-Pack staff were safe, according to local officials, and there were no reports of casualties.
A Shell refinery in the Moerdijk industrial zone was not affected by the fire, a spokesman told Reuters news agency.
However, shipping traffic on the Hollands Diep river, close to the Moerdijk area, was halted, a spokesman for the Dutch Ministry of Security and Justice said.