Hungary plunges into EU hot water in steering role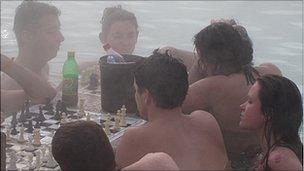 Hungary's turn at the helm of the EU has been accompanied by a chorus of concern about a media law brought in by the centre-right government.
The BBC's Nick Thorpe in Budapest examines how Hungary is likely to influence the EU's agenda this year.
"Maybe we should start to think about developing Hungarian soft power," George Schopflin, a Euro MP for the Fidesz party told a conference on Hungary's image in the world.
The country can start showing off some lesser-known treasures - for example its army of excellent, relatively cheap dentists, or its abundant thermal waters.
At the Szechenyi Thermal Baths in the Budapest City Park there is a lot of soft power on display.
Men and women in all shapes and sizes lounge in azure outdoor pools, kept at a steady 38C by springs from deep under the city. Some play chess - a favourite pastime here - shoulder-deep in the waters.
The air temperature is -2C, but the rosy-bodied adults and children do not seem to notice, as they stroll through steam clouds over heated cobblestones, past elegant Hapsburg yellow buildings.
The manager of the baths, Ferenc Kiss, is looking forward to the Hungarian presidency of the EU. "We're counting on many more visitors, from all over Europe this year," he says.
Hungary has taken over the presidency with an ambitious domestic agenda of its own. There are plans to finalise the Danube Strategy - to develop the economic and ecological potential of Europe's most important waterway.
In April, a new all-EU strategy to better integrate the Roma (Gypsies) will be unveiled, drawing on positive examples from many countries, led by Budapest.
But there will also be areas of conflict as European Commission President Jose Manuel Barroso visits Hungary on Friday. Some he will bring with him, like the battles within the eurozone, to which Hungary does not yet belong - others are home-produced.
The Fidesz party came to power last June with a massive two-thirds of the seats in the Hungarian parliament.
That gives them the right to change the ground rules of the Hungarian state, including the constitution, drawn up during the peaceful transition from a single to a multi-party state.
The government argues that Hungarian democracy has been disfigured and often paralysed by the party-political battles of the past 20 years.
In the past seven months Fidesz has pushed through law after law, eroding many political checks and balances.
"A reform programme has to be implemented fast, effectively within the first 12 to 15 months of a government coming into power. After that it becomes increasingly difficult to launch serious reform," said George Schopflin.
The government has lost no time. The wings of the constitutional court - until now one of the most powerful in Europe - have been clipped.
Hungarian President Laszlo Solyom has been replaced by a Fidesz loyalist, Pal Schmitt.
The penal code has been tightened to increase sanctions against repeat offenders. And a partly private pension fund with three million contributors has been tipped into the state coffers.
In its defence, the government argues that a strong but fair state is necessary, and that everything must be done to stimulate growth - including the creation of 100,000 jobs a year.
At present Hungary has the lowest rate of employment in the EU - under 55% of the working-age population. That means that 1.9 million taxpayers (plus 800,000 in the state sector) are struggling to fund a country of 10 million people.
Taxes on personal income and businesses are being cut, and swingeing taxes imposed on banks and large, mostly foreign-owned corporations to fund this.
On 1 January a new media law came into force in Hungary, which has been attacked by leading newspapers and media and human rights watchdogs across Europe.
"When some people use excessive language, they should also look into their own media laws and legislation, and they will find a striking similarity between the provisions they now violently criticise and those which exist in fact in their own country,'' said Hungarian Foreign Minister Janos Martonyi.
Criticism has also been fierce at home. A requirement in the new law not to "hurt public morality" is one of many "vague provisions" attacked by the Hungarian Civil Liberties Union (HCLU).
"The only certain point is that it creates room for discretionary, arbitrary decisions by the media authority, and consequently it increases its authority to restrict free speech," the HCLU wrote.
The new media authority and media council replaced five previous bodies, which were often paralysed by party disputes.
Now Fidesz stands accused of using its parliamentary majority to appoint loyalists to both edit and regulate public service media, and to threaten commercial media with fines.
Staff at the national radio, two state television channels, and the state news agency MTI have been unsettled by plans to roll them into one massive newsroom, and by the possible loss of jobs.
"There is a danger or growing danger of self-censorship among certain colleagues, because they feel their job is less secure than it was. And that's why they might want to comfort those in power," says Gyula Csak, the news director of Hungarian Radio.
"From now on," quipped one comedian in the New Year's Eve radio cabaret, "all jokes will be centralised - there'll be a list of 40 jokes approved by the National Joke Authority, and we'll just have to choose between them!"
The first act of the new Media Authority was to launch an investigation into the commercial Tilos (meaning "forbidden") Radio, for broadcasting two songs, in English, last September by American gangster-rap artist Ice-T, judged to be obscene and to endanger minors.
Few young people "understand hardly comprehensible lyrics", Tilos Radio replied in a letter, "written in slang, full of words and expressions missing from their curriculum, after one hearing, in a musical environment".
In the outdoor pool at the Szechenyi Baths, the chess tournament is heating up.
A man with a handsome beard waves away the television cameras. His opponent - who appears to be winning - insists the cameraman may film as much as he wishes. This was ever a divided nation.
Related Internet Links
The BBC is not responsible for the content of external sites.