New Hungary citizenship law fuels passport demand
By Laurence Peter
BBC News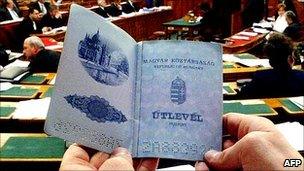 Many people living in regions that used to form part of Hungary have started applying for Hungarian citizenship.
Thousands applied at Hungarian consulates in Romania on Monday, when a new citizenship law took effect, a Hungarian community leader said.
Zsolt Szilagyi said he thought "hundreds of thousands" would apply in Transylvania, northern Romania.
Some Slovak politicians have condemned the new law. Slovakia, like Romania, has a large ethnic Hungarian minority.
Hungary ceded two-thirds of its territory under the 1920 Treaty of Trianon, after being on the losing side in World War I. That left large Hungarian communities living in neighbouring countries.
Hungary joined the EU in 2004 and has just taken over the EU's six-month rotating presidency.
Speaking to the BBC from Transylvania, Mr Szilagyi said the new law was primarily "symbolic" and would help the community's drive for greater autonomy and cultural rights.
He stressed that, as EU citizens living in Romania, ethnic Hungarians had the right to move to Hungary and work there well before the new law came into force.
Citizenship "is a form of symbolic relationship - recognition that after 90 years of living without Hungary we maintain our identity, we value our mother tongue," he said.
Officially Romania has about 1.5 million ethnic Hungarians, though Mr Szilagyi put the figure at "nearly two million".
He is a colleague of the independent Euro MP Pastor Laszlo Tokes, who heads the Transylvanian Hungarian National Council (EMNT). Mr Tokes's defiance of the former Communist authorities in 1989 was a catalyst for the Romanian revolution.
Mr Tokes and his family were among the first to apply for Hungarian citizenship on Monday, in the town of Oradea.
Southern Slovakia is home to roughly 500,000 ethnic Hungarians, about a tenth of the country's population.
In May last year Slovakia's former Prime Minister Robert Fico described the Hungarian law as "a security threat" and an attempt to revise history.
More than 250,000 ethnic Hungarians also live in Serbia.
Hungary's parliament, dominated by Prime Minister Viktor Orban's centre-right Fidesz party, adopted the new citizenship law last May.
It means that people identifying themselves as ethnic Hungarians can acquire citizenship without living in Hungary.
They are required to give consular officials proof of Hungarian roots - for example, the birth certificate of a Hungarian parent or grandparent - and demonstrate some proficiency in the Hungarian language.
But as non-residents they will not be entitled to vote in Hungarian elections.
Obtaining a Hungarian passport is now expected to take just a few months, under a new fast-track procedure, whereas previously it often took years.
Mr Szilagyi said dual citizenship was common in the EU, and he welcomed Romania's "correct" attitude on the issue. Romania had encouraged Moldovans to obtain Romanian citizenship, even though Moldova was not in the EU, he said.
Hungary's ambassador to Belgrade, Oszkar Nikowitz, said the new law had "primarily a moral dimension for Hungarians who lost Hungarian citizenship due to historical circumstances".
Quoted by Serbia's B92 news website, he played down any practical advantages offered by the law.
Related Internet Links
The BBC is not responsible for the content of external sites.