Dioxin scandal: Germans warned about contaminated eggs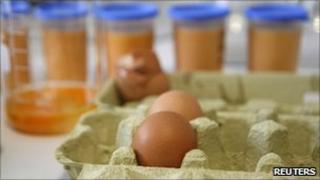 Germans have been urged to keep an eye out for eggs that may have been tainted by contaminated animal feed.
Thousands of chickens have been culled and 1,000 farms ordered to stop selling their products after toxic dioxin was found in poultry and pig feed.
Authorities say more than 100,000 eggs that may have been contaminated have been produced by two farms in the past two weeks.
A German feed producer has said it found the dioxin in routine testing.
The two farms which distributed the eggs are in the western state of North-Rhine Westphalia.
Officials say the warning to consumers applies only to eggs sold before 23 December.
The chicken-cull has taken place on one farm in North Rhine Westphalia, while meat and egg production has been halted on 1,000 farms in the north-western state of Lower Saxony.
Legal proceedings
In a statement the feed company, Harles and Jentzsch from Schleswig-Holstein, in northern Germany, said the dioxin had possibly come from a Dutch supplier.
"We have an initial suspicion of a criminal act according to the animal feed law," public prosecutor Ralph Doepper said, confirming that preliminary proceedings were being carried out against the German company.
North Rhine Westphalia's Consumer Affairs Minister Johannes Remmel said it was "a scandal and there must now also be a discussion about the political consequences".
German Agriculture Minister Ilse Aigner said the authorities would consider whether existing regulations on animal feed needed tightening up.
In Lower Saxony, agriculture officials said compensation had to be considered because of the threat to the farmers' livelihoods.