Coptic churches in Europe report attack threats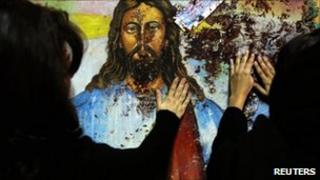 Coptic Church leaders across Europe have revealed they have been the target of threats in the wake of the New Year's Day bomb attack in Egypt.
A priest in Paris has made a complaint to police which has led to an inquiry by the anti-terror squad, reports say.
A senior official in the UK says threats have been "outlined" against two churches, and a bishop in Germany has called for government protection.
The Alexandria bombing killed 21 people as worshippers left midnight mass.
The security concerns in Europe come days before Coptic communities celebrate Christmas on 7 January.
'Online threats'
Girguis Lucas, a priest at the Coptic Church of St Mary and St Mark in Paris, told AFP news agency that a member of his congregation had spoken of internet threats "from Islamic mujahideen who announced more attacks in Europe and especially in France and mentioned our church".
The General Bishop of the Coptic Orthodox Church in Britain, Bishop Angaelos, said that he had discussed the threats with fellow bishops across Europe and that precautions taken after earlier attacks had been heightened.
"We take any threat as being viable," he told the BBC News website. "There are a couple of churches [in the UK] that have been outlined."
Bishop Angaelos - who describes the Egyptian bombing as "unprecedented" - says a general funeral service is being planned in churches across Europe in memory of the victims in Alexandria.
The German interior ministry says members of the Coptic church expressed their concerns even before the New Year's Day suicide attack.
Bishop Anba Damian told German radio that his community had been warned by police about online threats by Islamists.
'Barbaric'
Coptic communities in Germany, France and Britain as well as Egypt were cited by Islamist websites two weeks ago, apparently accusing Egyptian Christians of mistreating female converts to Islam.
A spokesman told German media the ministry was in security talks with the Church.
German Chancellor Angela Merkel has written to Egyptian President Hosni Mubarak expressing her condolences for "this barbaric act of terror".
But Stefan Mueller, parliamentary leader of the junior coalition party, Christian Social Union, called on Mrs Merkel to go further, by linking development aid to the treatment of Christians in relevant countries.