France tries eight men accused of funding militants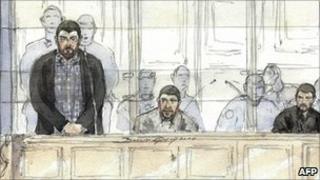 The trial has begun in France of eight men accused of carrying out armed robberies and other crimes to finance militant Islamist movements.
Ouassini Cherifi, a 36-year-old French-Algerian known as "the Turk", is accused of heading a gang which served as a source of funding for al-Qaeda.
The defendants also include several Tunisians and one other Frenchman.
Some have admitted being members of a gang and taking part in an attempted robbery, but not financing militants.
Prosecutors say Mr Cherifi met members of a militant cell during a trip to Turkey in September 2005, and agreed to finance their operations.
His gang is alleged to have operated out of the back room of a restaurant he owned in the Paris suburb of Clichy-Sous-Bois.
During an operation which led to the eight defendants being arrested, the police were given a tip-off about a nearby garage. They found weapons, ammunition, explosives, police uniforms and bullet-proof vests.
The men were charged with attempting to rob a company that transports cash, and an armed robbery of a courier company during which documents from the French government's printers were stolen.
In 2002, Mr Cherifi was sentenced to five years in prison for trafficking fake passports linked to radical Islamist groups.