Hungary rejects Western media law attacks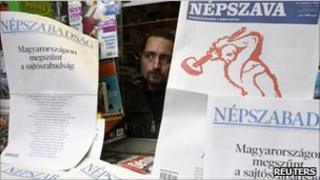 Hungary has dismissed Western critics of a new media law and insisted that it remains committed to press freedom.
The law, which came into force with the start of the year, created a new authority with powers to monitor and impose fines on the media.
Some European politicians and newspapers have expressed concern that the regulator will lack independence.
But Hungary, which has just assumed the EU presidency, says the concerns are unfounded.
Under the new law Hungary's media authority, the NMHH, oversees all public news production and has the power to fine broadcasters and newspapers for violating "public interest, public morals or order".
Critics say the authority is dominated by people loyal to the centre-right Fidesz party of Hungarian Prime Minister Viktor Orban.
EU countries including the UK, Germany and Luxembourg have voiced fears that the law will restrict the freedom of the press.
In addition, European Commission Vice-President Neelie Kroes sent a letter to Budapest at the end of December asking for further information on the text of the law.
Left-leaning Hungarian newspapers have also denounced it - with one, Nepszabadsag, declaring on the front page of its latest edition: "The freedom of the press in Hungary comes to an end."
Accusations 'absurd'
In a statement posted on the website of the Public Administration and Justice Ministry, the Hungarian government rebutted the various criticisms made by European officials and foreign newspapers.
It said a common trait of the opinions expressed was that they "lack in-depth knowledge" of the new law.
"Instead of formulating specific criticisms, they are a collection of unfounded, at times outright absurd accusations," the statement said.
"The Hungarian government remains committed to freedom of the press, and in no way wishes to stifle the opposition's views."
Members of the NMHH "have no ties, either formal or informal, with the ruling political parties", the statement said.
"Authorities with a much smaller degree of independence from government are not uncommon across Europe," it added.