Saudi royal buys landmark Crillon hotel in Paris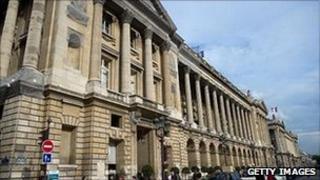 The prestigious Hotel de Crillon in the heart of Paris has been sold to a member of the Saudi royal family.
The 18th Century former palace, on the Place de la Concorde, is said to have been bought for around 250m euros (£212m, $328m).
The Crillon is currently owned by US company Starwood Capital which acquired the hotel when it took over the Taittinger empire in 2005.
An earlier attempt to sell the hotel to Saudi-backed JJW ended up in court.
In April, the court ruled that JJW would have to pay Starwood 100m euros to settle the dispute, which involved an alleged breach of contract.
The Crillon was built in 1758 and 20 years later was the setting for a key treaty between the US and France. In 1793, King Louis XVI was guillotined in the square in front of the hotel.
The identity of the new buyer has not been disclosed although Groupe du Louvre, the Starwood subsidiary that runs the Crillon, said in a statement that it was an "eminent member of the Saudi royal family".
The hotel, which has 147 rooms and employs 360 staff, is likely to be run by Swiss hotel group Kempinski after a handover period lasting up to one year.
Almost all the luxury hotels in Paris have been bought by foreign groups. The George V is owned by Saudi prince Al-Waleed bin Talal, and Egyptian businessman Mohamed Fayed has the Ritz.