Timeline: Silvio Berlusconi's political career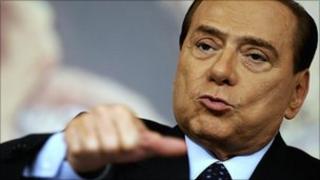 Italy's pugnacious Prime Minister Silvio Berlusconi has enjoyed a long political life marked by dazzling highs - and scandalous lows.
He was born in 1936, and in the decades before entering politics established a successful business career - first in housing construction and then building an empire of media and corporate interests.
Despite being dogged by corruption allegations, verbal gaffes and accusations of affairs with women decades younger than him, Mr Berlusconi has demonstrated remarkable political longevity in a country known for its fractured politics and short-lived governments.
January 2011
The Constitutional Court rules that immunity from prosecution enjoyed by Mr Berlusconi as a serving prime minister is not automatic.
After a 13 January meeting, the court says individual judges should be allowed to decide whether immunity can be invoked.
In an unrelated move the following day, prosecutors announce they are investigating the prime minister for abuse of power over claims that he leaned on police to try to have a 17-year-old nightclub dancer freed from police custody.
Reports say the allegations include one involving underage prostitution.
Mr Berlusconi's lawyers dismiss the claims as "absurd and groundless".
December 2010
Motions of confidence in Italy's lower and upper houses of parliament - the Chamber of Deputies and Senate - decide Mr Berlusconi's fate as Italian leader.
On 13 December, Mr Berlusconi makes a calm and measured appeal to legislators not to risk a crisis by voting against him.
The following day, he survives as prime minister by just three votes.
November 2010
Mr Berlusconi's former ally and fellow founder of the People of Freedom Party (PDL), Gianfranco Fini, urges him to step down at a public rally, citing a "moral decadence" in Italian society after the allegations about the teenage dancer emerge.
On 15 November, four members of Mr Berlusconi's government resign in a blow to Mr Berlusconi, who faces yet another vote of confidence in December.
September 2010
Mr Berlusconi survives another no-confidence vote, after appealing for national unity and warning that an attempt to bring down the government would risk instability.
July 2010
Mr Berlusconi's government survives a confidence vote on an austerity package meant to bolster the country's finances.
The prime minister insists he will hold on to power despite a public split with Mr Fini. The following month, he survives a no-confidence vote - but the vote demonstrates the strength of a group of rebel MPs.
March 2010
Berlusconi's coalition makes strong gains from the centre-left in regional polls, but in August it loses its majority in lower house of parliament after more than 30 deputies break away from Mr Berlusconi's Party of Freedom.
December 2009
Tens of thousands of people rally in Rome, demanding Mr Berlusconi's resignation.
Days later, Mr Berlusconi is recovering in hospital after suffering two broken teeth, a minor nose fracture and cuts to his lip after being struck by a souvenir model of Milan cathedral thrown by a man who targeted the prime minister as he walked through the centre of Milan after a political rally. But Mr Berlusconi plays down the attack.
October 2009
The Constitutional Court overturns a 2008 ruling granting Mr Berlusconi immunity from prosecution while in office - triggering the reopening of two cases of alleged corruption against him.
Mr Berlusconi describes himself as the most persecuted person "in the entire history of the world".
Nearly 100,000 Italian women sign a petition expressing anger over Mr Berlusconi's remark to a female politician that she was "more beautiful than intelligent" - in what correspondents say is a rare public outpouring from Italian women.
May 2009
Mr Berlusconi comes under pressure to explain his relationship with aspiring model Noemi Letizia, and succeeds in blocking the publication of hundreds of photos said to show scantily-dressed young women attending parties hosted by Mr Berlusconi.
Some of the pictures are later published by a Spanish newspaper. He is later forced to deny allegations that he paid prostitutes to attend parties at his official residences, and then that he offered one woman, Patrizia D'Addario, a seat in the European Parliament.
April 2009
A month of extremes for Mr Berlusconi. He is praised for his speedy handling of the devastating earthquake which hit the medieval town of L'Aquila - attracting little domestic criticism for a remark in which he urged survivors to see their plight like "a weekend of camping".
But later in April comes a very public dressing down - and the event which the BBC's Rome correspondent Duncan Kennedy says may come to be viewed as the turning point in Mr Berlusconi's fortunes.
Mr Berlusconi's estranged wife, Veronica Lario, writes an open letter complaining about his behaviour with - and attitude towards - young women. She also confirms she will be filing for divorce.
He "consorts with minors", she says in one lacerating phrase, after he attended Ms Letizia's 18th birthday party in Naples.
February 2009
David Mills - a British lawyer who had acted on behalf of Mr Berlusconi in the early 1990s - is found guilty of accepting a large bribe, allegedly from Mr Berlusconi, and is sentenced to four-and-a-half years in jail. But a year later, his appeal ended with the Supreme Court of Cassation ruling that the statute of limitations had expired.
Mr Mills - whose estranged wife was former British cabinet minister Tessa Jowell - is deemed guilty but no longer punishable for the crime.
2008
In January, a no-confidence vote forces Romano Prodi's government to resign, and in a general election in April, Mr Berlusconi wins a third term in office.
With the support of the populist Northern League, the PDL enjoys solid majorities in both houses of parliament.
A controversial law is passed granting the prime minister, president and two parliamentary speakers immunity from prosecution while in office - triggering the suspension of two court cases against Mr Berlusconi.
November 2007
Mr Berlusconi launches his long-planned new centre-right People of Freedom party (PDL), to incorporate his own Forza Italia and the right-wing National Alliance of Gianfranco Fini.
April 2006
Narrowly loses general election, coming second to his old rival Romano Prodi.
April 2005
The government coalition collapses after suffering a crushing defeat in regional polls; Mr Berlusconi resigns. Days later, he forms a new government after receiving a presidential mandate.
December 2004
After a four-year trial Prime Minister Berlusconi is cleared of corruption.
2001
Mr Berlusconi returns as prime minister, in coalition once more with his former partners. He remains in the post for the next five years, the head of what becomes the longest-serving Italian government since World War II.
Despite his renewed popularity, allegations of wrongdoing continue to dog him.
He is accused of embezzlement, tax fraud and false accounting, and attempting to bribe a judge.
A number of cases come to trial. In some cases he is acquitted. In others, he is convicted, but the verdict is overturned on appeal.
In others still, the statute of limitations expires before the case reaches its conclusion. Mr Berlusconi's government passed reforms shortening the statute of limitations for fraud.
There is controversy in 2002 as parliament approves a bill enabling Mr Berlusconi to keep control of his businesses.
Mr Berlusconi asserts that he is the victim of a conspiracy by a politically motivated judiciary.
April 1996
He loses an election to the left-wing Romano Prodi. But, as ever, Mr Berlusconi refuses to be deterred and spends the next few years reorganising his party.
March 1994
Mr Berlusconi is elected as MP and appointed prime minister in snap elections only a few months after founding his own political party, Forza Italia - Go Italy - named after a chant used by AC Milan fans.
He is in coalition with the right-wing National Alliance and Northern League, but rivalries between the three leaders, coupled with Mr Berlusconi's indictment for alleged tax fraud by a Milan court, lead to the collapse of the government just seven months later.