Q&A: EU External Action Service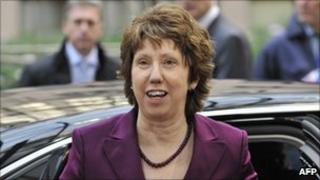 The EU's new diplomatic service - the European External Action Service (EEAS) - was launched quietly on 1 December 2010, without any fanfare.
It is one of the key innovations under the EU's Lisbon Treaty, but there were tough negotiations over its structure and a deal was not reached until 21 June.
The EU foreign policy chief, UK peer Baroness Ashton, got European Commission support for her original blueprint, but the European Parliament argued successfully for changes to make the EEAS appointments and budget more transparent.
Does the EU need its own diplomatic service?
Supporters of the Lisbon Treaty, which took effect on 1 December 2009, say such a service is long overdue. They say the EU is a major global power economically but has not been punching its weight diplomatically.
The treaty paved the way for creating the EEAS and appointing its chief - the new foreign policy chief, Baroness Ashton. Her official title is High Representative for Foreign Affairs and Security Policy. She is also a vice-president of the Commission, the EU's executive arm.
One of the main arguments for Lisbon was to make EU foreign policy more coherent and integrated.
Opponents of Lisbon say the EEAS will mean a new layer of EU bureaucracy, potentially wasteful of taxpayers' money and competing with national diplomatic services. They fear an encroachment of EU powers, a further step towards an EU "superstate".
The EEAS, with a new headquarters in Brussels, will take charge of the EU's delegations worldwide - 136 offices of the European Commission.
What role will the EEAS play in EU defence and security policy?
The treaty says the High Representative is responsible for steering foreign policy and common defence policy. So the EEAS can make recommendations on defence and security, but final decisions are in the hands of the Council - the body that speaks for the 27 EU governments.
Under EU rules these decisions still have to be unanimous - that is, individual member states retain the power of veto. However, Lady Ashton will chair foreign policy meetings, so she will have great influence. International crisis management is also part of her remit.
How will the EEAS be organised and what will it cost?
Eventually the EEAS will have a staff of about 5,400. The first intake will be on 1 January 2011 - 1,525 civil servants from the Commission and the Council Secretariat. The first batch includes 100 newly created posts.
The EEAS budget for 2011 - not yet formally adopted - is 475.8m euros (£404m; $634m). As the EEAS expands its annual budget is expected to grow to about 3bn euros.
As a Commission vice-president Lady Ashton receives a basic annual salary of about 265,470 euros - and various EU allowances on top of that.
The Brussels headquarters will be rent-free for the first two years, after which it will cost about 12m euros in rent annually.
At least one-third of the EEAS staff will be seconded from national diplomatic services on a temporary basis.
The rest of the staff - at least 60% - will be permanent EU officials drawn from the Council Secretariat and from the relevant Commission directorates - those with a foreign policy dimension, such as trade and humanitarian affairs.
Lady Ashton has pledged to promote a balance of staff in terms of gender and geography.
The plan describes the EEAS as a "functionally autonomous" EU body.
It will consist of directorates general, organised into geographical desks covering the whole world, as well as "multilateral and thematic" desks.
The European Parliament has a say over staff regulations, so MEPs may be able to influence transfers of Commission staff to the EEAS, British Conservative MEP Charles Tannock, a member of the parliament's foreign affairs committee, told the BBC.
Small EU nations such as Estonia and Malta may turn to the EEAS to help with consular work in countries where they cannot afford to run their own embassies, Mr Tannock said.
Apart from Lady Ashton who are the top officials?
Her deputies are expected to be the relevant commissioners - for enlargement, development and humanitarian aid - and the foreign minister of the country holding the six-month EU rotating presidency.
That arrangement is in line with the demands of MEPs, who argued that Lady Ashton's deputies must be political appointees. They did not want an unelected civil servant deputising for Lady Ashton at a parliamentary hearing on an important EEAS mission or appointment.
EEAS policy will be managed by a veteran French career diplomat, Pierre Vimont, as EEAS secretary-general. His most recent post was French ambassador to Washington, but he also has years of diplomatic experience at the highest level in Brussels.
The budget and staff administration will be managed by David O'Sullivan, the chief operating officer. An Irish career diplomat, he served previously as head of cabinet for former Commission President Romano Prodi.
Lady Ashton was criticised over her choice of Joao Vale de Almeida - a close aide to Commission President Jose Manuel Barroso - to be the new EU ambassador to Washington. Some politicians said there should have been more consultation.
An Italian with wide experience of managing international aid operations, Agostino Miozzo, will be in charge of EEAS crisis response.
Will the European Parliament - the only directly elected EU institution - have any power over the EEAS?
Yes - to some extent. Parliamentary approval is required for the EU budget to take effect, so MEPs can exert power over the new service's purse-strings. Lady Ashton has promised them full budgetary oversight.
The funding for EEAS operations will come under the Commission's budget - which MEPs scrutinise - and the EEAS administrative budget will be separate, but also subject to parliamentary scrutiny.
MEPs say the new service must also be fully accountable to parliament in political terms - that is, MEPs want the power to vet senior EEAS appointments.
Will there be any duplication of the Commission's work?
There is a risk of duplication, as the Commission has indicated its reluctance to relinquish control over EU development and neighbourhood policy. Big budgets are at stake, affecting projects in countries bordering on the EU and further afield.
The blueprint says the EEAS and Commission will prepare proposals in parallel, supervised by the commissioner for development and commissioner for neighbourhood policy.
Once approved by Lady Ashton, the proposals will go to the Commission for a decision.
MEPs warned that such a structure would create an "artificial separation" between policy-making and implementation. They called it a "recipe for incoherence".
Despite these objections, the Commission's role does not appear to have been watered down.
The member states - through the Council - are responsible for defence and security, not the Commission.
How has Lady Ashton influenced EU foreign policy so far?
Her priority has been setting up the EEAS, which is already months behind schedule - a knock-on effect of the delay in implementing the Lisbon Treaty.
So Lady Ashton's influence has been largely behind-the-scenes and hard to gauge.
But she was the UN's lead negotiator with Iran on its highly controversial nuclear programme in early December 2010. There was no breakthrough at the Geneva talks, but the two sides agreed to meet again in January 2011 in Istanbul.
Her spokeswoman, Maja Kocijancic, says Lady Ashton was also a key facilitator of dialogue between Serbia and Kosovo and "got the Serbian side on board". Their relations are still frosty - but no longer frozen by the dispute over Kosovo's status.