Georgia arrests six suspected of 'Russian bomb attacks'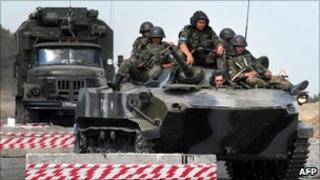 Georgia has arrested six people suspected of staging bomb attacks masterminded by Russia, the government in Tbilisi says.
The six suspects, all Georgians, were recruited by the Russian military to carry out six attacks since September, the interior ministry said.
One person was killed in the latest explosion outside an opposition party's office in Tbilisi on 28 November.
Georgia and Russia fought a brief war in August 2008.
Georgia's Deputy Interior Minister Eka Zguladze said the suspected ringleader, a former Georgian army officer, had been blackmailed by the Russian military into staging the attacks.
"This person agreed to work for them (the Russian military) under threat to his family," Ms Zguladze said.
The first blast the six are suspected of having organised occurred near the US embassy in the capital Tbilisi on 22 September.
Georgia's announcement that it had arrested 13 suspected members of a Russian spy ring early in November had caused anger in Moscow. The Russian government called the announcement a "fabrication" and a "blatant provocation".
The EU Monitoring Mission in Georgia (Eumm) recently said it was concerned about measuring work carried out on the border between Georgia and South Ossetia, a region that broke away from Georgia in the 1990s.
The mission said it had observed Russian and South Ossetian armed personnel supervising "border demarcation works" on the South Ossetian side of the line, which were incompatible with Georgian territorial integrity.