Bomb damages Lenin statue in St Petersburg suburb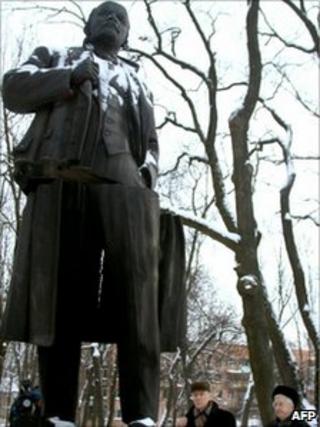 A statue of former Soviet leader Vladimir Lenin has been bombed in a suburb of St Petersburg in Russia.
Police said the blast had seriously damaged the monument and shattered windows of nearby apartments.
The city governor linked the explosion to another attack last year on a larger Lenin statue in central St Petersburg.
Correspondents say statues of the Bolshevik revolutionary remain numerous in Russia, nearly 20 years after the collapse of the Soviet Union.
The attack took place on Monday night in the St Petersburg suburb of Pushkin.
The explosion cracked the statue along Lenin's waistline but it remained standing on its base.
The bombing was condemned by St Petersburg governor Valentina Matviyenko.
"Anyone who raises their hand to monuments is against history and the feelings of our citizens," she told a government meeting.
"Whatever they may think of Lenin, all the citizens of our city are outraged by this act."
Last year's attack targeted one of Russia's most famous Lenin statues - standing outside Finland Station in St Petersburg. It was left with a gaping hole in its rear.
Police never caught the attackers but the statue was repaired by the city authorities and later replaced.