EU ministers reject 20-week maternity leave plan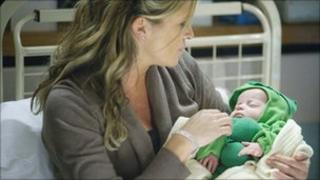 EU ministers have overwhelmingly rejected a move by Euro MPs to extend maternity leave to 20 weeks on full pay in the 27-nation bloc.
The social affairs ministers voiced concern about the cost of the 20-week minimum that the European Parliament voted for in October.
Minimum maternity leave in the EU is currently 14 weeks. The European Commission has proposed extending it to 18 weeks, to improve work-life balance.
No deal is expected before next year.
The UK was among the countries that lobbied against the 20-week plan. One assessment said such a measure could cost UK businesses an extra £2.5bn (2.8bn euros) a year.
Similar concerns were voiced by France and Germany. France estimated it would mean extra healthcare costs of 1.3bn euros, and Germany put its additional costs at 1.2bn euros.
Negotiations next year
Belgium, current holder of the EU presidency, said a majority of countries favoured further discussion of the Commission's original draft directive - an extension to 18 weeks.
A statement from the Council - the EU body representing member states' governments - said many ministers were also reluctant to include paternity leave in the directive, "whose main purpose was to improve the health and safety of pregnant women and workers who have recently given birth".
The MEPs' amendments included a proposal for two weeks of paid paternity leave for fathers as a minimum.
A qualified majority is required in the Council for the plan to go back to MEPs for a second reading.
Under the Commission's original plan, mothers would be entitled to 18 weeks' paid maternity leave, but not necessarily on full pay - it could be at or above the sick-leave rate.
Women in the UK are currently entitled to 12 months' maternity leave, with the first six weeks on 90% pay followed by 33 weeks on Statutory Maternity Pay of just under £125 a week.
In Germany maternity leave is 14 weeks - among the shortest periods in the EU - but new mothers receive their full salary.