Spain airports facing post-strike backlog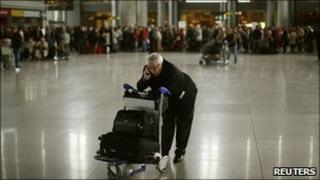 Air services in Spain are returning to normal after an unofficial strike by air traffic controllers disrupted hundreds of thousands of journeys.
But thousands of passengers are being warned to expect further delays as Spain works to clear a huge backlog.
Officials said 250,000 people were hit by Saturday's walkout, amid a long-running dispute about working hours.
Spain's government imposed emergency measures not seen since military rule in an attempt to halt the strike.
The state of alert allows the government to arrest those who refuse to work, Spain's interior minister said.
Threats of further strikes over the Christmas and New Year period would be quashed by the government, the AFP news agency quoted Alfredo Perez Rubalcaba as saying.
Air traffic controllers are now working under military supervision, with army trucks seen at many of Spain's major airports.
High wages
Airport operator Aena said some 4,000 flights were scheduled for Sunday, although that was too late to salvage the weekend plans of thousands of Spaniards.
Two days of national holiday in the coming week had prompted many to plan five-day breaks, many of which were scuppered by the wildcat strike.
Up to 20,000 UK passengers are thought to have been affected by the unofficial walk-out which led to flights in and out of Spain being cancelled.
Ryanair cancelled 450 flights on Saturday, and Easyjet 100.
Passengers who have not yet set out are being urged to contact their airline before heading to their airports, although almost all air traffic controllers scheduled to work on Sunday were reported to have turned up to work.
Officials estimate it could take up to 48 hours to get services back to normal.
The controllers walked out in a dispute over working hours.
However, correspondents say their disagreement has won little sympathy with the Spanish public. Air traffic controllers in Spain are paid high salaries, an average of 200,000 euros each (£170,000) per year.
The controllers' unsanctioned action began Friday afternoon in Madrid, with staff calling in sick.
It spread across the nation, forcing travellers to find last-minute hotel rooms or sleep on airport floors. Some passengers were taken by coach to their destinations.
The controllers were already involved in a dispute about their working hours, but were further angered by austerity measures passed by the government on Friday as Spain tries to cut its budget deficit.