Two dead as engine failure airliner lands in Moscow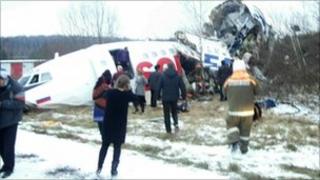 Two people were killed and more than 80 others injured when a passenger plane rolled off the runway after making an emergency landing at a Moscow airport, Russian officials say.
All of the plane's three engines had failed by the time it landed at Domodedovo airport.
The Russian-built TU-154 was carrying about 170 passengers and crew en route for southern Russia.
The plane broke up after leaving the runway.
"As a result of the TU-154 making an emergency landing at Domodedovo airport, two people died," Tatyana Morozova, a spokeswoman for Moscow transport investigators, said.
Civil aviation official Sergey Izvolskiy told broadcaster NTV that the plane belonging to Dagestan Airlines had taken off from Vnukovo airport in Moscow, bound for Makhachkala in Dagestan.
Shortly after take-off, the crew reported engine problems and were forced carry out an emergency landing at Domodedovo, Mr Izvolskiy said.
"Following the landing, the plane slid off the runway and broke up", he said.
The cause of the engine failure is under investigation.
One passenger told AFP news agency the landing was very rough, then there was a "big shock" as the plane hit something.
"I was sitting in the middle. The plane broke in two about four or five seats in front of me as if it had been cut, completely," Gamzat Guitinomagomedov said.
"We saw the people who were there, they had broken legs, blood everywhere."
Russia's national carrier airline Aeroflot took all its remaining 23 TU-154 aircraft out of service in January, after a series of crashes led to safety fears.
The Tupolev mid-range jets are banned from landing in Europe because of excessive engine noise.
But the aircraft are still used by smaller airlines across Russia and the former Soviet Union.
Polish President Lech Kaczynski was killed earlier this year when a Polish Airforce TU-154 crashed in western Russia.