German party urges US to recall envoy over Wikileaks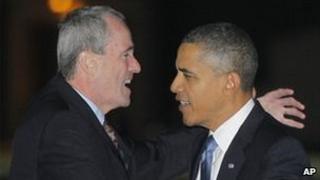 MPs from Germany's junior coalition party, the Free Democrats, have urged the US to recall its ambassador over comments released by Wikileaks.
Philip Murphy reportedly described their party leader, Foreign Minister Guido Westerwelle, as "arrogant, vain and critical of America".
Chancellor Angela Merkel was described as "risk averse and rarely creative".
An aide to Mr Westerwelle resigned earlier for passing information to the US embassy.
The Free Democrats (FDP) said the aide, Helmut Metzner, 42, had given up his role as Mr Westerwelle's office manager at party headquarters.
He had, they said, admitted supplying details of the negotiations that brought the formation last year of the centre-right coalition led by Mrs Merkel's Christian Democrats.
But the party added that Mr Metzner had only passed on publicly accessible information and no legal action would be taken against him.
'Unseemly behaviour'
FDP deputy Hans Michael Goldmann told German daily Bild that Mr Murphy could no longer serve as an effective go-between.
"Mr Murphy's behaviour is unseemly," he said. "Such an ambassador should be called home."
FDP deputy Bijan Djir-Sarai said for his part: "It is more than doubtful whether Mr Murphy can still be a trustworthy interlocutor."
But Mrs Merkel's spokesman, Steffen Seibert, said the government would continue to work with Mr Murphy.
"The government is most certainly not calling for the ambassador to be recalled," he said.
"German-US ties are robust."
US Secretary of State Hillary Clinton told US allies she "deeply regretted" the release of diplomatic cables by Wikileaks.
Mr Westerwelle himself appeared to play down material about politicians.
"A few gossipy comments about European politicians are not exactly welcome but they are not really important," he said.
But he added: "In other cases, people's lives could be put at risk."