Sarkozy grabbed Russian minister's lapel - Wikileaks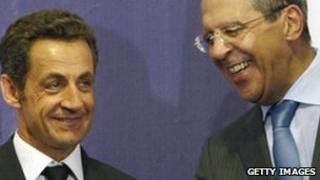 French President Nicolas Sarkozy reportedly grabbed Russia's foreign minister by the lapel and called him a liar during the Georgian crisis.
The report in a US diplomatic cable released by Wikileaks refers to negotiations near Moscow in 2008, a few weeks after Russia's war with Georgia.
Moscow was suspected of back-tracking on the terms of its truce with Georgia, which Mr Sarkozy had helped to broker.
There was no comment from Paris or Moscow on the Wikileaks account.
"Sarkozy caught the Russian Foreign Minister Sergei Lavrov by the lapel of his jacket, and called him a liar," a US diplomat is quoted as saying in the memo, reported in the French press this week.
"Sarkozy seems to have warned Russia that its position as a 'major power' had been seriously damaged by its refusal to respect its obligations."
The incident was apparently recounted to US diplomats in Moscow by a French diplomat involved in negotiations.
At the time, press photos showed Mr Sarkozy smiling for the cameras alongside Mr Lavrov and Russian President Dmitry Medvedev.
The cable released by Wikileaks does not specify whether Mr Sarkozy, famous for his diminutive stature (1.65m, 5' 5''), was sitting or standing when he reportedly grabbed Mr Lavrov, who is known for his tall, athletic figure.