Lethal cold weather grips northern Europe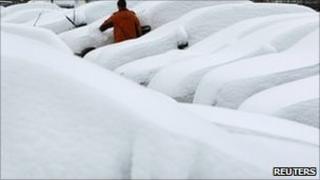 Heavy snow and sub-zero temperatures have been causing another day of disruption to northern Europe and its transport network.
Thousands of railway passengers had to spend the night in trains in Germany as snow paralysed many high-speed inter-city routes.
Flights were disrupted in the UK, France, the Netherlands and Germany.
In Poland, 18 people have died from exposure over the past two days.
Most were homeless people under the influence of alcohol, a police spokesman said.
In other developments
Denmark mobilised its army to help emergency vehicles make their way through snow in the south-east
Eurostar trains from France faced cancellations or delays while snowfalls trapped hundreds of motorists in Brittany and Normandy
In Belgium, 650km of traffic jams were reported, with Flanders hit hard
In the UK, Gatwick, Edinburgh and London City airports all suffered closures
Cold air moving down from Siberia has contributed to the wintry conditions in northern Europe.
Temperatures are an average 5-10C below average in some major cities.
Exposure deaths
Temperatures dropped to as low as -26C (-14.8F) in Poland on Wednesday.
Five other people died in central Europe and two in the UK, while Russian media reported three deaths in Moscow.
Some 3,000 rail passengers were stranded overnight in trains in Germany, German railway operator Deutsche Bahn said.
The authorities in Berlin kept underground stations, soup kitchens and heated buses open all night to provide shelter for the city's homeless.
Significant flight delays were reported at London Heathrow, Paris Charles de Gaulle, Amsterdam Schiphol, Berlin Tegel and Duesseldorf airports.
Geneva airport reopened on Thursday morning, but was advising that passengers arrive a full two hours before the departure time and use public transport to avoid traffic problems on the roads.