Migrants at Greece-Turkey border face bleak future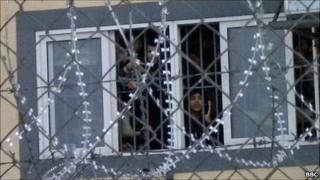 The EU's border agency has sent a force to Greece's land border with Turkey to help stem the flow of illegal migrants. But human rights groups criticise the conditions in Greek detention centres. The BBC's correspondent Razia Iqbal reports from Orestiada:
"This is not what we thought Europe would be. They treat us like animals". A man from Morocco shields his face from the cold and our camera.
We are talking with a fence between us, at the Filakio detention camp in northern Greece. He is among hundreds of illegal migrants being held, having crossed the border with Turkey.
Greece is on the frontline of a European problem, which is why the Greek government has asked the EU for help.
And the EU border agency, Frontex, has seen considerable signs of success.
Before the 175-strong Rapid Border Intervention Team (Rabit) began its mission a month ago, 350 people a day crossed the border. Now, around 60 people a day make it.
The region most affected is North Evros, and the area's police chief, Colonel Georgios Salamagkas, told us that since the beginning of the year, 35,000 migrants had been arrested.
That is the equivalent to the population of the villages in that region.
Since the sea borders have been contained and closed off to migrants, Greece's land border has become vulnerable.
Frontex deputy director Gil Arias Fernandez told me: "This operation is not a panacea. The operation alone will not be the solution."
"More needs to be done by Greece and more also by the EU. We will offer the Greeks all the assistance they need."
What's changed the situation is a combination of manpower and technology.
Frontex is using thermal imaging cameras. They work all day but are most effective at night, when most migrants cross.
How Greece is coping with the detention of those they have caught is causing some concern.
Barbed wire
The scene at the detention centre we visit in Filakio is very bleak.
Most of the detainees are being kept behind bars, including women and young children.
When some notice we're filming, they are desperate to get our attention.
One man tells us it's miserable inside, it's overcrowded, and unhygienic.
He also says it's not a place for humans, but for animals, and he never imagined that Europe would be like this.
There is barbed wire and arms reaching out from behind bars, holding out notes saying "help me".
The UN's refugee agency UNHCR has described the conditions as a humanitarian crisis.
Simone Troller of Human Rights Watch agrees. She also told us that Greek police are openly acknowledging that they are unable to cope with the numbers being detained.
This may be Greece's burden at the border, but it is also Europe's frontier.
And since the majority of migrants don't want to stay in Greece, but would like move on to the UK, France or Germany, this is a Europe-wide issue.