Wikileaks founder Julian Assange has few places to hide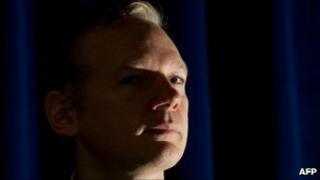 Wikileaks founder Julian Assange had a reputation for being suspicious and paranoid even before everyone was out to get him.
Everyone, in this case, is the US - where government lawyers are hoping to prosecute on espionage charges - and the European Union, where he is wanted for questioning about an allegation of rape.
As of Tuesday, Mr Assange has also been liable to arrest in any of the 188 member countries of Interpol - from Afghanistan to Zimbabwe - in connection with the Swedish case.
Last seen in London, he is widely assumed to be in the UK now, though remaining continuously on the move.
If he appeared in public, British police would be obliged to arrest him under a European Arrest Warrant issued by the Swedish authorities - though it's not clear that anyone is going to go out of their way to find him.
"If there is no indication that the accused is in a particular region, you won't expect a police force to investigate," said a spokesman for the UK's Serious Organised Crime Agency (SOCA).
So, supposing Mr Assange is still in the UK, and he lies low, he may be able to avoid arrest. In spring, however, his six-month visa will run out, creating additional problems for him.
Whispers
It would not be safe for him to appear in person at a news conference, but he has shown this week that he can continue to communicate with journalists virtually - via video recorded on a mobile phone or via Skype.
According to New York Times reporter John F Burns, who interviewed Mr Assange in October, he changes mobile phones "the way other men change shirts", uses cash instead of credit cards and stays either with friends, or in hotels under false names.
When the two men met in a London Ethiopian restaurant, Mr Assange spoke in a whisper, for fear of eavesdropping by Western intelligence agencies.
A journalist who met Mr Assange earlier this year told the BBC his "over-suspicious" behaviour made the meeting unnecessarily awkward.
"You ask him a harmless question - and he looks at you as if to ask 'Why do you want to know?'" the journalist said.
At that point, Mr Assange was not a wanted man. It's only recently that has freedom of movement has been seriously curtailed.
In April he travelled to the National Press Club in Washington to show a video of a US military helicopter killing 12 people in Baghdad in 2007, including two Reuters journalists.
His position became more precarious in July, after Wikileaks made public 77,000 US military documents on the Afghan conflict in July, and even more so after the publication of nearly 400,000 secret papers on the Iraq war in October.
Espionage charge
He was still able to unveil the Iraq documents to the media at a news conference in London, though US officials were already muttering then about a possible espionage prosecution.
A senior Pentagon official told the Associated Press this week that lawyers from the Justice, State and Defense departments were now actively discussing whether or not some kind of charge could be made to stick.
A possible obstacle to a prosecution under the Espionage Act could be the First Amendment to the US Constitution, which guarantees free speech and freedom of the press.
But experts quoted by the Associated Press also raised the possibility of other charges, such as theft of government property, receipt of stolen government property, mishandling of classified documents, or aiding and abetting illegal leaks of documents by government employees.
It has also been suggested that Mr Assange could be successfully prosecuted under the Espionage Act, without falling foul of the First Amendment, for wilfully withholding information in defiance of an official demand for its return. Just such a demand was made by the State Department on Saturday, before the latest release of US diplomatic cables.
Rape allegation
After the Afghan document release, Mr Assange travelled to Sweden and applied for residence and a work permit.
With its strong traditions of press freedom, the country could have become a safe haven. However, he soon faced allegations of rape and sexual molestation from two Swedish women, which now represent the most immediate threat to his liberty.
He denies any wrongdoing, saying he had consensual sex with both women.
In November a warrant was issued for his arrest, to enable Swedish prosecutors to question him, followed by the European Arrest Warrant. Two appeals against the Swedish warrant have failed, though the European Arrest Warrant has had to be re-issued because of a procedural problem.
Mr Assange's London lawyer, Mark Stephens, has argued that the European Arrest Warrant is invalid, because his client has not been charged. However, SOCA says no charge is necessary - it is sufficient that the individual is "facing prosecution".
In the midst of these legal proceedings, in October, Sweden rejected his request for residency.
Subsequently, Mr Assange is said to have raised the possibility of taking refuge in Switzerland or Iceland.
'Red notice'
While both are members of Interpol and both have extradition treaties with the US, this does not automatically make them hostile territory for him.
A "red notice" issued by Interpol on Tuesday informing all of its 188 member countries that he is wanted in Sweden does not legally oblige any of them to hand Mr Assange over - though a spokesman told the BBC that "usually they feel duty bound to do so".
Equally, while a country that has signed an extradition treaty with the US might usually be expected to give him up, it might not if the crime was regarded as a political one.
Ecuador briefly appeared a promising haven earlier this week, when deputy foreign minister Kintto Lucas said he would be welcome to take up residence there - but President Rafael Correa subsequently dismissed the idea.
Another possible destination might in theory have been Australia, as Mr Assange was born there and holds an Australian passport. However, this does not in practice look like a good choice for the Wikileaks founder.
Like Iceland and Switzerland, Australia is also a member of Interpol and has an extradition treaty with the US. In addition, Australia's Attorney General, Robert McClelland, said this week that police were investigating whether the latest round of Wikileaks disclosures had broken Australian law.
Furthermore, a senior Australian official once warned Mr Assange that since he played "outside the rules", he would be dealt with outside the rules - or so he told the New York Times.
Whichever country Mr Assange aims for next, his biggest problem could be getting there.
If he is currently in a European Union member state, he risks arrest as soon as he presents his passport at the border.