Communist art auction for Hungary sludge victims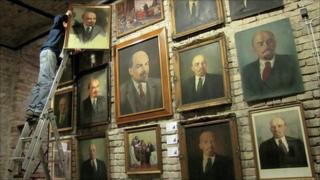 Nearly two months on from the toxic sludge spillage, Hungary is to use its communist heritage to benefit the victims of the disaster.
Dozens of images of Lenin jostle for space on the brick wall of a gallery in the Hungarian capital, Budapest. An imposing life-size bust of a historic communist leader looks on from its spot in the corner.
Another painting shows a cheerful-looking Russian soldier with a gun in one arm and a young girl in the other while a group of children crowd around him.
These are just some of the art works that are once again seeing the light of day after being held in basements and storage rooms of Hungarian government buildings since 1990.
The paintings, photographs and sculptures, a legacy of Hungary's communist era, are to be auctioned by the government to raise funds for those affected by October's toxic sludge spillage.
Dusted off
"We prove that the most useless objects can be used for a useful intention," states the government's press release about the auction.
Much of Hungary's communist-themed art was removed following the fall of communism in the country in 1989.
"They have been gathering dust for the past 20 years," says Bence Retvari, parliamentary secretary at Hungary's justice ministry.
"The state does not want to look after these communist relics anymore."
Having been dusted off and put on display for the first time in 20 years, 230 items are awaiting potential bidders at Budapest's Pinter gallery.
"The upcoming auction is proving very popular," the gallery's Anna Losonci told BBC World Service.
"We are getting a lot of interest from collectors here and overseas."
The government expects buyers to include businessmen, students and serious collectors from Hungary, Poland, the Netherlands and as far afield as the US.
Starting prices for the various items range from around $5 for a 1970s dot matrix-style print of Lenin to nearly $1,500 for an oil painting entitled "Soviet-Hungarian friendship".
Organisers at the gallery are hoping that determined bidders could push these prices up with some of the more valuable pieces potentially ending up in a museum.
Never again
The auction, to be held on 6 December, has been given the name "Never again! For the third time". The title is a play on words, says Forgacs Gergely from the Pinter Gallery.
"It's a thing that auctioneers in Hungary say when they are hammering their gavel but it also refers to our hope here in Hungary that we will never return to communism," he adds.
That sentiment can also be seen in the logo used for the auction's online catalogue which shows an image of Lenin with a hammer coming down on his head. It is Lenin literally going under the hammer.
"People view this type of art in different ways," says Ms Losonci. She adds that for some it can provoke a sense of nostalgia but for others it can bring back bad memories.
One member of staff from the Hungarian government, who asks not to be named, tells: the BBC: "I'm in my 20s, I've grown up in a different era.
"But some older Hungarians see this art as a symbol of the communist regime. They still have a memory of it. When they see a painting of Lenin it brings them back to their schooldays when there was a portrait of him in every classroom."
Despite the seriousness and historical significance of the art works, the organisers are injecting some humour into the proceedings.
Two young Hungarian stand-up comics, keen to do something for those affected by the sludge, will preside over the auction.
"We are hoping this will make it a more relaxed and enjoyable event," says Anna Losonci. "But we will be respecting the pieces and respecting the people who lived during that era."
Chemical torrent
All the proceeds from the auction will be donated to the Catholic charity Caritas, which will use the money to help residents in towns left devastated by the sludge.
Hungary declared a state of emergency earlier this year when a reservoir at an alumina plant ruptured releasing a torrent of chemical waste.
The disaster left several people dead and more than 100 injured, and it is expected to take at least a year to clean up the damage.
The Hungarian government estimates that it will cost tens of millions of dollars to reverse the damage caused during the spillage.