Spain arrests group suspected of Mumbai attack links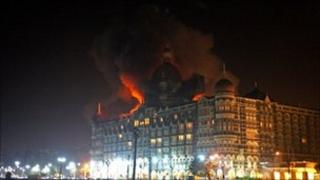 Seven men are being held in Spain on suspicion of having links to a Pakistani militant group blamed for the 2008 Mumbai attacks, officials say.
The six Pakistanis and a Nigerian man are suspected of sending money and forged documents to Lashkar-e-Toiba (LeT), a group connected to al-Qaeda.
Three others - two Pakistanis and a Thai national - were held in Thailand as part of the same operation.
The three-day assault by gunmen in India two years ago killed 166 people.
The suspects allegedly formed part of a group in Thailand linked to LeT.
Spain's Interior Ministry confirmed the arrests, saying anti-terrorist officers detained the suspects in raids in and around Barcelona late on Tuesday and early on Wednesday.
The ministry said the arrests were part of an international operation, and that the head of the organisation - a Pakistani national living in Thailand - had been detained.
The ministry said the man had "directed the cells based in Europe, decided the features of the passports to obtain and, once they were received in Bangkok, supplied them to different terrorist groups".
It said the operation "neutralises an important cell providing passports to al-Qaeda".