Wikileaks' Assange appeals over Sweden arrest warrant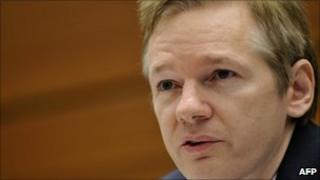 Wikileaks founder Julian Assange has filed an appeal with Sweden's Supreme Court against a warrant to arrest him for questioning on rape allegations.
Earlier this month an appeals court upheld a lower court's order to detain him for questioning in the case.
He has not been formally charged and denies the allegations, which stem from a visit to Sweden in August.
In another development, Interpol issued a "Red Notice" on Tuesday saying Mr Assange, 39, was wanted for sex crimes.
The Interpol notice is not an international arrest warrant but the public is asked to contact police with any information about Mr Assange's whereabouts.
Wikileaks has revealed thousands of US diplomatic cables in a third major release of classified US documents.
An international arrest warrant was issued for Mr Assange on 20 November following the decision by the Swedish district court two days earlier to issue a detention order.
Mr Assange's whereabouts are unknown, although earlier in November he was believed to be in the UK.
Sweden's Supreme Court will first have to decide whether to hear the case, an official at the court told AFP news agency.
That decision should come in the next few days, said Kerstin Norman. If the case proceeds, the Supreme Court will then hear whether the detention order should stand or be struck down, she added.
Born in Australia, Julian Assange has courted controversy through this year's s three major releases of classified US documents.
The first two concerned the wars in Afghanistan and Iraq. The latest, The latest, of more than 250,000 US diplomatic cables, is being managed in co-operation with newspapers in several countries.
Meanwhile the Deputy Foreign Minister of Ecuador, Kintto Lucas, has offered Mr Assange residency, saying he should be given the opportunity to speak publicly.
Sweden turned down Mr Assange's application for residency in October. Wikileaks has some servers in Sweden and the country offers strong laws to protect whistle-blowers.