Segolene Royal announces new French election bid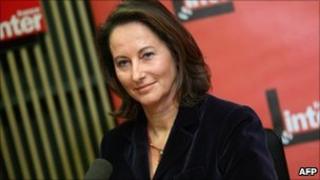 Segolene Royal, the Socialist presidential candidate Nicolas Sarkozy defeated in France's 2007 election, has said she wants to stand again in 2012.
She will compete for the Socialist Party's nomination, to be decided at primaries next year.
Her two strongest potential rivals for the ticket, party leader Martine Aubry and IMF chief Dominique Strauss-Kahn, have yet to declare their hand.
Ms Royal lost 47% to 53% to Mr Sarkozy at the last election.
When she was subsequently defeated by Ms Aubry in the Socialists' leadership election, her querying of the vote caused much bitterness.
Speaking to French newspapers on Monday, Ms Royal said it was "pretty obvious" that the right had already begun its election campaign for 2012.
Asked if she would stand, she replied: "The time has come to move forward with clarity and simplicity: my answer is 'Yes'."