'Foie gras burger' on the menu for Quick in France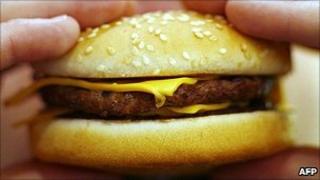 A Belgian fast food firm says it will be offering customers in France a burger containing a slice of foie gras.
The burgers, which will contain duck foie gras, as well as beef and lettuce, will be available for a short time in the days leading up to Christmas.
They will be on sale for five euros (£4.20) in hundreds of Quick outlets across France.
Foie gras is from the liver of a force-fed duck or goose, a practice that animal protection groups say is cruel.
The product - which has a rich flavour and buttery texture - is traditionally a Christmas delicacy in France, though it is eaten more widely in the south of the country throughout the year.
"We want to give our clients [a] great taste at cheap prices and give them the possibility to party a little ahead of time," the firm's marketing director Laurent Niewolinski told Reuters.
Quick said the foie gras burger would have a total of 672 calories, compared to the standard burger's 633 calories.
Earlier this year, the company sparked a debate in France by producing a halal version of one of its burgers - replacing the bacon with turkey - in some branches of the fast food outlet.