Ukraine leader Viktor Yanukovych vetoes unpopular tax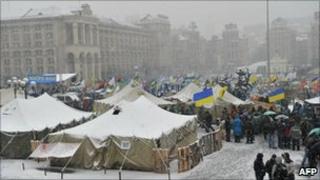 Ukraine's President Viktor Yanukovych has responded to protests that have swept the country by vetoing a controversial tax reform.
Thousands of business owners have demonstrated for days in cities across the country, claiming the tax change threatens their livelihoods.
Tents have been erected in the centre of Kiev, in scenes reminiscent of Ukraine's 2004 Orange Revolution.
Mr Yanukovych said he would ask parliament to amend the tax bill.
His government has come under pressure to improve the country's finances under the terms of a loan deal agreed with the International Monetary Fund.
Ministers said they had to raises taxes after months of severe recession.
But the sight of a tent camp in Independence Square in Kiev has revived memories of the rigged election won by Mr Yanukovych six years ago.
The election was eventually annulled and his rival, Viktor Yushchenko, won a re-run of the vote.