Italian cinema great Mario Monicelli kills himself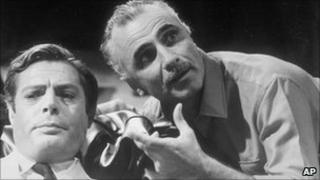 One of the greats of post-war Italian cinema, Mario Monicelli, has killed himself by jumping out of a hospital window.
Monicelli, 95, was dubbed the "father of Italian comedy" for directing films such as Amici Mei (My Dear Friends) and I Soliti Ignoti (Persons Unknown).
He leapt from the fifth floor of a Rome hospital where he was being treated for terminal cancer.
He received numerous awards and was nominated four times for an Oscar.
Monicelli was admitted a few days ago to San Giovanni hospital where he was being treated for prostate cancer.
He made his debut as a director in 1949 and won the Golden Lion at the Venice Film Festival 10 years later for The Great War, a comedy about two young Italians who try to avoid going to the front line during World War I.
"A comedy that is ironic, sometimes bitter, in some cases even dramatic, tragic: This is what Italian comedy is," Monicelli once said.
He also helped launch the careers of Marcello Mastroianni, Claudia Cardinale and Vittorio Gassman, with his 1958 film I Soliti Ignoti - released in the US as Big Deal on Madonna Street and in the UK as Persons Unknown.
Mario Monicelli directed 70 films, often focusing on stories about ordinary people confronted by extraordinary circumstances.
A Very Little Man (1977) was one of his best-known works about a man who takes justice into his own hands after his son is killed in a robbery.
Monicelli was known as politically left-wing and had called last year for students to protest against the government's proposals for cuts to the culture budget.
Paying tribute, Italy's President Giorgio Napolitano said he would be "remembered by millions of Italians for the way he moved them, for how he made them laugh and reflect".
BBC News website readers have been emailing their memories of Mario Monicelli. Here is a selection of their comments:
He was such a brilliant director and an out-of-the-box thinker. I will miss his incredible movies, so sweet and sour. His memory will linger on forever. Bruno Bonisiol, Venice
He was a great director, a strong and hardworking man, frank and honest. I Soliti Ignoti (Persons Unknown) is one of the best movie ever directed in Italy. I met him three years ago in Lucca at a comic's exhibition. He will be very much missed. Paola, Grosseto, Tuscany
If you really want to understand Italians, you have to watch Monicelli's films. He was a man of great wit, humanity and moral rigour and, obviously, a master of cinema. Go watch The Great War and you will see. Gibs, Rome
Mario Monicelli makes me proud to be Italian. He is well known for his movies, of which I know only the most popular. However, what I like most of him is his message to always fight against the injustice and the arrogance of the people in power, and to never give up. He has been very inspirational about this all his life. Filippo Adamo, San Francisco -USA
He was the institution of Italian comedy. I met him few times and interviewed him in his very coloured home near the roman forum for a documentary I produced for channel 4 on film genres. A very strong character and quite irascible but very focused and clear in what he wanted. It makes me think and moves a lot the way he died. Alex Di Martino, London
I Soliti Ignoti was a masterpiece of character creation. Each character was cleverly crafted and skilfully directed. It remains one of my favourite films of all time. Italian actors, especially actors from some of the classics of Italian cinema are held in high esteem by Italian theatre and cinema goers. Monicelli knew how to cast the best and nurture their talents to give performances that today still cannot fail to make us smile with recollection. They epitomised the best in Italian cinema and Monicelli was instrumental in creating those high standards and keeping them high. Geoff Motley, Maidenhead, Berkshire
The Great War, My Dear Friends, Persons Unknown, Cops and Robbers are my preferred Italians movies. I never fail to watch them on TV. In a country that has completely forgotten its WW1 heroes, his comic movies commemorate Italy's greatest and epic time. Emmanuel, Merone, Italy