Suspected serial killer seized in Sicily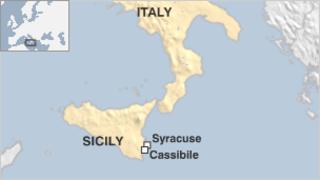 Italian police have arrested a 69-year-old man on suspicion of carrying out a series of murders in a town in Sicily.
Giuseppe Raeli, who has no previous criminal record, has been charged with five murders and four attempted murders in Cassibile between 1998 and 2009.
He was arrested when a helicopter and a special police unit raided his house early on Monday, reports say.
The man behind the murders was dubbed the Monster of Cassibile for firing at his victims with a 12-bore shotgun.
Among those shot was a married couple who died and their daughter who was wounded.
Prosecutors say they have linked Mr Raeli, a married man known locally as Pippo the Wolf, to more than a dozen cases.
"The serial killer would kill for just 200 euros (£170)," chief prosecutor Ugo Rossi told Italian media.
"He wanted justice for himself over those who didn't pay him for small jobs he'd done for them."
Mr Raeli, who is said to have retired, ran a wood supply business.
Police said that during their search they had found a home-made safe containing 20,000 euros (£17,000) and a firearm.