EU paves way for common patent system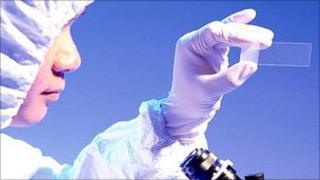 A group of EU countries plans to strike a deal soon on a simplified and cheaper European patent system - a goal that has eluded the EU for a decade.
The European Commission has thrown its weight behind the move, admitting that there is no unanimity on the issue among the 27 member states.
Translation costs make patents in the EU much more expensive than US patents.
Germany, the UK and several other countries want a fast-track deal under the "enhanced co-operation" procedure.
The procedure is an innovation brought in by the EU's Lisbon Treaty.
"Enhanced co-operation" allows nine or more countries to push ahead with a measure they deem important but that is blocked by a small minority of EU states. Other countries can join them at a later date.
It has been used only once before - to simplify divorce rules in cases where spouses come from different EU countries.
Language barrier
A language dispute has delayed progress on an EU-wide patent system.
Italy and Spain objected to a Commission proposal to have three official languages for registering patents - English, French and German.
Legal experts say a fast-track deal on a European patent system will not conflict with EU competition rules, a senior official in the Belgian EU presidency told the BBC on Monday.
The official, who asked not to be named, confirmed that enhanced co-operation was now the preferred option and that Belgium was acting as "honest broker" in the negotiations.
The Irish Republic, the Netherlands, Sweden and Slovenia are reported to be in the "fast track" group, along with Germany and the UK.
Global competition
Last week the EU Internal Market Commissioner, Michel Barnier, called for swift EU action on the issue. An EU ministerial meeting next month "will be the opportunity for this", he said.
"The current system for the patent is too expensive; it costs ten times more than in the United States. It impedes growth," he said.
"It is small and medium sized businesses - genuine sources of dynamism for the future - which are suffering most from it."
The Commission says a single EU patent system would reduce translation costs from the current 14,000 euros (£12,226) on average to just 680 euros per patent.
The EU has been wrangling over plans for an EU-wide patent since August 2000, when the Commission first called for a regulation to settle the matter.
The European Patent Office (EPO) in Munich currently grants patents in the three official working languages of the EU.
But a firm then has to get its invention validated separately by patent authorities in some or all of the EU member states - paying a fee each time.
Germany filed the most applications to the EPO last year - 25,107, followed by France (8,929), the Netherlands (6,738) and the UK (4,821).