Naples rubbish crisis: EU warns Italy of big fines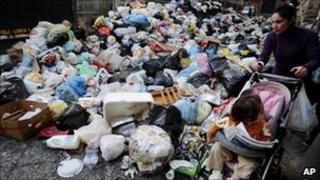 Italy faces big fines if it fails to clean up thousands of tonnes of rubbish still lying around the city of Naples, according to the EU.
European inspectors who visited the region this week found that none of the measures demanded by a top European court in March have been implemented.
The Campania region has suffered poor waste management for years.
Italy's prime minister Silvio Berlusconi said on Friday the problem would be fixed within two weeks.
The Italian leader came to Naples for a meeting about the region's waste problem, which some have accused him of mismanaging.
At a press conference afterwards, Mr Berlusconi dismissed the threat of EU fines, saying he was hopeful that the government could 'nullify' it.
Urgent matter
European Environment Commissioner Janez Potocnik said the inspectors who had visited this week believed the rubbish crisis would take years to bring under control.
In a statement, he stressed that this was a "matter of urgency".
"In the absence of an effective waste management plan for Campania, the danger to human health and damage to the environment... will continue," said Mr Potocnik.
Naples residents have reported a rise in the numbers of rats, pigeons and seagulls in the streets around the piles of rubbish.
Experts have warned of the dangers of a rise in gastrointestinal diseases.
Rubbish dumps are overflowing and some have been closed by local residents who fear contamination by unregulated toxic waste disposal. There have been protests for similar reasons over opening new landfills.
But there have also been demonstrations over authorities' seeming inability to sort out the chronic waste problem.
Legal action
The EU is calling on local and national authorities to clear the streets, open contested dumps, persuade more of the population to recycle and speed up the construction of incinerators, which has been repeatedly delayed.
The Environment Commissioner said 7,200 tonnes of rubbish is accumulating every day in the Campania region.
He also urged authorities to establish measures to safely dispose of "almost eight million tonnes" of bundled waste in several storage sites in Campania.
Without a proper waste management plan, Mr Potocnik said the commission would have to return to court and the likely outcome would be the imposition of fines.
Campania authorities were in trouble with the EU last week over a different matter.
Local officials were told to pay back 720,000 euros (£613,000) of EU money intended for regional development which they had used to stage an Elton John concert in Naples.