Fears over 'widespread' EU fraud involving the Mafia
By Gail Champion
File on 4, BBC Radio 4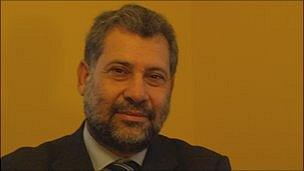 Millions of euros designed to regenerate Europe's poorest regions have been siphoned off by organised criminals, including the Italian Mafia, a BBC investigation has found.
Several bogus Italian companies have fraudulently obtained EU grants for renewable energy projects.
Critics say the EU's anti-fraud watchdog Olaf is failing to stop theft and misuse.
Olaf insists member states bear the main responsibility to prevent abuse.
However, Olaf's acting director general Nicholas Ilett said Olaf was also strengthening its mechanisms to reduce fraud:
"Large sums are going to the Mafia, which clearly they ought not to be.
"We must continue to improve our financial and administrative systems, and better target the specific areas of risks on the ground. This is what we are doing already."
The Structural Fund money is given out by the European Commission in Brussels. The EU-wide budget for Structural Funds is 350bn euros (£295bn) for the latest seven-year period (2007-2013), distributed across 650,000 programmes in 27 countries.
On the Italian island of Sicily, one recently-defected Mafia boss revealed just how some of this money was channelled into Mafia hands.
Not wanting to be seen speaking to the BBC in public, Antonio Birrittella agreed to a meeting in a private room in a backstreet hotel in the island's capital Palermo.
"All these funds from the EU were seen as a gift to the Mafia, easy pickings, especially the development of wind farms and renewable energy," he said.
Although now co-operating with the police and other Italian authorities, Birrittella admits to being a former key player in the infamous local Mafia, the Cosa Nostra.
With previous "responsibility" for extortion in neighbouring Trapani, he claims the modern Mafia has reinvented itself as a "white collar" organisation which has siphoned off millions in EU funds, through a combination of shell companies and the infiltration of regional bodies which distribute the subsidies.
He claims to have detailed knowledge of how the scams worked:
"First the Mafia had an interest in many of the companies which obtained public funds, and they owned many of the companies which won the contracts to build wind farms, and finally they claimed fake transactions and issued double payment invoices."
He says the organisation used intimidation to obtain the plots of land it needed to build the wind farms, and threatened any construction firms who refused to pay its extortion fees.
"It started with arson on their premises or building sites, burning their trucks and machinery. That was followed up with threatening phone calls. At that point they usually got what they wanted."
With Sicily due to receive a further 6.5bn euros in European structural funding over the next seven-year financial period, there is growing concern about a lack of safeguards to protect the additional money if the region's renewable energy sector continues to attract sizeable subsidies.
Forty kilometres (25 miles) from Palermo, the farming region of Camporeale is dominated by rows of large wind turbines which dot the surrounding volcanic ridges.
According to the regional anti-Mafia prosecutor Roberto Scarpinato, some of the wind farms here were developed by the Mafia using EU subsidies, which were then used to fund a money-laundering empire.
By rotating the millions in EU funds through different front companies, the organisations appeared to be operating legitimately and so attracted further EU grants.
"They took the same amount of money, and they moved it around as if each company had access to its own existing capital. They performed this same trick many times, and every time they received public funds," he said.
Many of the wind farms have since been sold on to genuine energy companies completely unconnected to the Mafia.
Back in Brussels, Olaf's director general Nicholas Ilett says the structural funds do have built-in checks and balances.
Bill Newton Dunn, Liberal Democrat MEP for the East Midlands who served on the EU's Budgetary Control Committee, praises Olaf for some of its work, but complains that the "tiny and under-resourced" service has no power to prosecute when it finds evidence of fraud.
And with just 18 investigators looking at the distribution of the entire Structural Fund budget, Nicholas Ilett says the ultimate responsibility for preventing fraud lies with each member state:
"We have done a lot of detailed work on areas subject to Mafia influence, but fighting serious organised crime is not a matter for an administrative service based in Brussels, but for the police and judiciary in the country in question."
However, German MEP Inge Grassle argues the member states are themselves part of the problem:
"We have member states which actively block Olaf and have no interest in really having fraud cases detected.
"At the moment, I'm sorry to say only 7% of cases [highlighted by Olaf] are picked up by the member states. This means that 93% of cases are thrown in the paper basket.
"Therefore we have an investigation unit which is not really effective because after the investigation nothing happens. This means we tolerate criminality. I think that this is really bad news."
Related Internet Links
The BBC is not responsible for the content of external sites.