Pressure gets too much for Portugal and Spain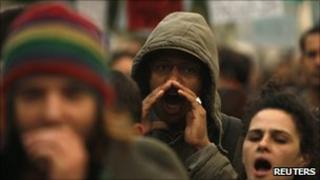 The EU's emergency bail-out of the Irish Republic has put two other vulnerable economies under an uncomfortable spotlight.
There is now speculation that Portugal, and even Spain, could be forced to follow suit and ask for help.
Nervous investors have pushed both countries' borrowing costs to record heights, exacerbating their problems.
Adamant that Spain will cut its bloated budget deficit as promised, Finance Minister Elena Salgado has complained of "speculative attacks" by investors.
In Lisbon, Labour Minister Helena Andre accused the markets of piling even more pressure on Portugal's public finances.
Earlier this week, her government revealed that its initial package of spending cuts had made no dent at all in the deficit. In fact, this year, the gap between Portugal's revenue and spending has grown.
Historically weak
"We have had to pay more dividends on our debt than expected," Ms Andre maintained in a BBC interview, describing the vicious circle Portugal risks becoming trapped in.
"If all goes well, we think the plan we have is enough to meet the reduction of our deficit but it's a big 'if', which depends on how the international markets will behave."
During the recession Portugal and Spain both blew their budgets, amassing large deficits and substantial debt.
In a bid to balance the books, Portugal has pledged to reduce its deficit by two points this year, from 9.3%. So the government has introduced a package of austerity measures, including cuts in public sector pay and a 2% increase in sales tax, or VAT.
But with Portugal's long history of weak economic growth, and no sign of improvement, investors fear the government will struggle to honour its commitments. Hence the talk of a bail-out.
"I would not call it inevitable, but the odds of Portugal asking for assistance have increased since Ireland did the same," believes Pedro Lains, an economist at Lisbon University, who says it is even possible that negotiations have already begun behind closed doors.
"We just don't know. But maybe a bail-out is not such a bad thing as people think. Government access to funding on better conditions - and supervision - may be a way out of this crisis."
But any EU rescue package comes with strict conditions attached, as Ireland is discovering. It is likely to mean deeper cuts and higher taxes - this time imposed from outside. Even more hardship would be difficult for many people to swallow.
On Wednesday, hundreds of thousands of Portuguese people took part in what trade unions call the biggest general strike in their history.
Workers manned picket lines across the country to rail against pay cuts, a rise in VAT and a freeze on pensions.
Their banners proclaimed the government's austerity measures as "robbery". A union leader called the protest a "cry of indignation" from society.
Spanish fears
Two months ago, there were similar scenes in Spain as workers marched against their own government's austerity measures.
It is the prospect that Spain may be forced to call on the European Stabilisation Fund that is most troubling.
Its economy accounts for more than 11% of the eurozone, dwarfing those of Ireland, Portugal and Greece put together. A Spanish bail-out would cause serious problems for the euro.
The prospect of more enforced austerity in return fills many Madrilenos with dread.
"The situation for Spain looks really pessimistic," believes 39-year-old Jose Luis Jordan.
"We've had a lot of cuts already and I think there'll be even more within the year."
Javier Roca, 46, says a hike in VAT has already made his life difficult.
"It worries me quite a lot that the Irish bail-out will create a domino effect," he says.
"The government are to blame for all this. They've not taken the right decisions, and when they have acted they've done badly."
Acting quickly is one way Spanish economists believe their government could avert this crisis - even now.
"There is no real rationale to say Spain will topple," believes Federico Steinberg, senior analyst at the Elcano Institute in Madrid.
"Once the market panic is over, Spain's economic foundations are relatively sound."
But like many, he believes the government needs to press ahead with structural reforms - including pension reform and restructuring the regional savings banks - to prove it is on top of things.
"If market pressure makes those reforms more necessary now, that's not a bad thing," Mr Steinberg argues.
Call for calm
As for Portugal, the labour minister there appealed for a breathing space.
On Friday, parliament is expected to approve the government's austere budget, as the main opposition party abstains from the vote.
"We expect we will have some time to prove we can meet our commitments and that's very important," Ms Andre said, stressing that even the general strike would not push the government off track.
"But being under pressure is not helping Portugal, or any other country like it, to do things in the most appropriate way."
As for her government's plans to request a bail-out from the EU, the minister added: "We expect to be able not to do that."