Air France to resume Atlantic flight recorder search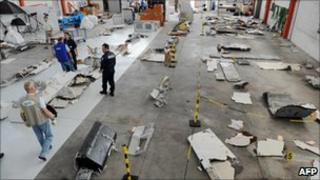 The French government has said it will resume the search for an Air France jet that crashed in the Atlantic Ocean, killing 228 people.
Officials will launch a fourth hunt for parts of wreckage, including the flight recorders, in the area of ocean where the Airbus A330-200 went down.
All those on board Flight AF447 from Rio de Janeiro to Paris died in the June 2009 crash.
The cause of the disaster has never been established.
Families of some of the victims have demanded that the search continue until investigators are able to give them answers about the incident, which occurred during a thunderstorm.
"The fourth sea search phase should begin in February 2011," France's junior Transport Minister Thierry Mariani said in a statement.
The "best equipment currently available" would be used, the statement said.
'Failed searches'
Those investigating the crash have previously said the plane's airspeed monitors were faulty, but officials believe other factors must also have contributed.
Finding the black boxes, which record flight data and cockpit conversations, could finally allow investigators to explain the mystery of why the plane came down.
An initial search found 50 bodies and hundreds of pieces of the plane, including its torn-off tail.
The last search for the voice and data recorders ended in failure in May 2010, and some families have questioned the way it was handled.
The flight went down roughly midway between Brazil and Senegal. It was the deadliest crash in the history of Air France.
Officials have previously said there can be no guarantee the flight recorders will ever be found.