Italian town's wind farm windfall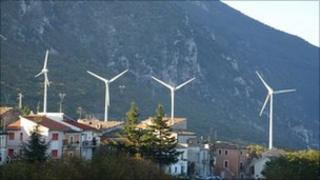 Ever wanted to have your rubbish collection bill reduced?
Or have the cost of your children's school meals cut?
Or live in a place where you get cheap visits to the local health spa?
There is one town in Italy where all this is possible, thanks to wind.
The town is Tocco Da Casauria and it is being held up as an example of what is possible with renewable energy.
Surplus power
Tocco is in the mountainous Abruzzo region of central Italy.
Set on a hill, it is a place where small cafes sit alongside olive oil shops in narrow, cobbled streets.
But as you peer between the houses coloured pink, yellow and green, out into the distance beyond, two impressive sights stand out: the rugged mountains, recently tipped off with the first snowfalls of winter, and four wind turbines.
The turbines spin with unsynchronised, hypnotic regularity.
The electricity they generate is not just a top-up for other sources of energy. It is the only source of energy.
Wind powers the entire town of nearly 3,000 people.
So efficient are the turbines that they produce 30% more electricity than is needed, and so the extra is sold back to Italy's equivalent of the national grid.
That creates a profit of nearly 170,000 euros (£144,000, $227,000) a year and it is that money which is being pumped back into local services, enabling everything from street-cleaning and school meals, to grass-cutting and street-lighting to be subsidised.
Tax cuts
Tocco has the luck of location.
It lies in a kind of wind tunnel, benefiting from mountain-blown air in the mornings and powerful sea breezes in the afternoon.
So the turbines turn nearly 24 hours a day.
It does not mean that domestic electricity bills are being reduced. Legal restrictions prevent that.
But residents such as Rosa Uberti are not too bothered because their local taxes have been reduced instead.
Average-sized homes like hers now pay about 100 euros a year for all refuse collection, road-sweeping, grass-cutting and more.
That is less than a couple of euros a week.
"I find the turbines nice," says Rosa. "I don't mind them, they're not ugly, they're good for our town."
Wind turbines divide residents in other places. Some view them as noisy, intrusive and unsightly.
Not in Tocco.
'Windfall' profits
Rosa is not the only one you find here with a "yimby", not "nimby", attitude towards the giant windmills. For these people, it is "Yes In My Back Yard".
Schools also benefit from the "windfall" profits.
As well as getting money to help with building works, they get subsidies for meals.
A two-course lunch at the local primary school costs less than a euro a day.
And fancy soaking in the warm, bubbling, sulphurous waters of the local health spa?
Prices there have been discounted as well thanks to an 11,000-euro subsidy from the town's coffers.
Mayor Riziero Zaccagnini says Tocco may be exceptional but there is a message for everyone.
"There is a simple lesson here about sustainability," he says.
"We're demonstrating what is possible with wind. It's something others could follow, whether it's with wind, solar power or other types of renewable energy. Italy and the world can learn from this."
Wind converts
Italy's national record on renewable energy is not very impressive. It makes up only about 7% of the total electricity used.
The country relies, instead, more on imported natural gas and oil to satisfy most of its needs.
It is also re-starting its mothballed nuclear power industry.
Italy has come under international criticism for failing to meet carbon emission reduction targets and for not converting to the renewable sources being championed by places like Tocco.
The award-winning Tocco is not the only community meeting all its own electricity needs, but it is one of the biggest and most advanced.
Critics have argued that renewable energy, like wind, is only ever going to be a marginal solution, an add-on.
But in Tocco, where they also have solar-powered buildings, they are converts.
Here, they believe they are in a wind-win situation.