Medvedev warns of political 'stagnation' in Russia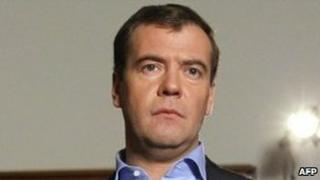 Russia risks slipping into a period of political "stagnation", President Dmitry Medvedev has warned.
In hisvideoblog, Mr Medvedev spoke about the lack of real competition in the political arena, heavily dominated by the pro-Kremlin United Russia party.
"This stagnation is equally damaging to both the ruling party and the opposition forces," he said.
Russia's marginalised opposition has accused the authorities of harassment - a claim denied by the Kremlin.
The opposition has also frequently complained of being denied access to airtime during recent election campaigns, saying the authorities give unfair advantages to United Russia.
'Brezhnev times'
"If a political opposition doesn't stand the slightest chance of winning a fair election, then it degrades and becomes marginalised," Mr Medvedev said on Tuesday.
"But if the ruling party never has to worry about losing an election anywhere, then it too degrades and 'bronzes over.'"
He said that for "these reasons it has become necessary to raise the degree of political competition".
The president also admitted that Russian democracy was "imperfect", but said the country was nevertheless "moving forward".
Mr Medvedev also argued that he had already taken a number of measures to make the political system fairer.
When they hear the word "stagnation" many Russians immediately think of the 1970s and the days of Leonid Brezhnev - when the Soviet Union lost direction and "stagnation" laid the foundation for the USSR's future demise, the BBC's Steve Rosenberg in Moscow reports.
Our correspondent says that it is a word one hears more and more in Russia's political circles - a sign of the growing frustration with a political system that has become so tightly controlled by the authorities.
Mr Medvedev's comments come ahead of his major policy address in parliament.
Some analysts say the president is trying to position himself as a modernising force in the run-up to the presidential elections in 2012, where he can potentially stand against former president and current Prime Minister Vladimir Putin.
Neither Mr Medvedev nor Mr Putin has publicly declared their intention to run for Russia's top job.