Pope's condom views clarified by Vatican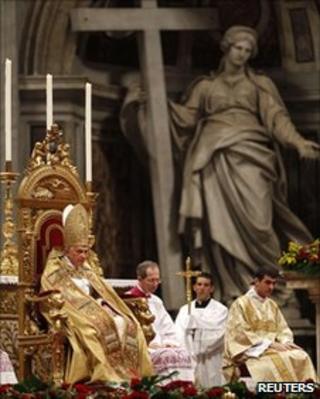 The Vatican has clarified Pope Benedict XVI's comments on condoms, saying their use by men and women to prevent HIV could be an act of "responsibility".
The clarification follows comments suggesting the Pope accepted their use only in exceptional circumstances.
But the Vatican's senior spokesman said the key point was taking the life of the other person into consideration.
The comments come from a book based on a series of interviews with the Pope, published on Tuesday.
In the text, the Pope appeared to suggest that condoms could reduce the risk of infection in certain circumstances, such as for a male prostitute.
'Taking responsibility'
The Pope's meaning was questioned because the Italian translation of the book used the feminine form of the word for prostitute, whereas the original German used the masculine.
Vatican spokesman Father Federico Lombardi said he had personally asked the Pope if there was a serious, important problem in the choice of the masculine over the feminine.
"He told me 'No'," Fr Lombardi said. "The problem is this... It's the first step of taking responsibility, of taking into consideration the risk of the life of another with whom you have a relationship."
"This is if you're a woman, a man, or a transsexual," he added.
Despite this shift, the Vatican still believes that changing attitudes to sexuality is the proper way to combat HIV/Aids.
In the book, the Pope says that condoms are "not really the way to deal with the evil of HIV infection".
The Pope's attitude towards homosexuality and artifical contraception has not shifted, with other passages in the book reaffirming the Vatican's opposition to both.
The Roman Catholic Church's traditional opposition to contraception has led to the Vatican being heavily criticised for its position in the context of the Aids crisis.
The book - Light of the World: The Pope, the Church and the Signs of the Times - is based on interviews that the Pope gave the German Catholic journalist, Peter Seewald, earlier this year.