Profile: Irish Finance Minister Brian Lenihan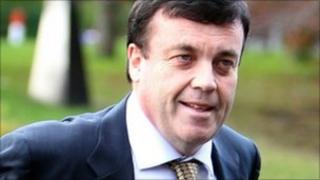 Life has not been easy for Ireland's Finance Minister Brian Lenihan over recent years.
Since taking office in May 2008, he has seen his country battered by the global recession, and finally forced to accept a rescue package worth billions of euros from the EU.
The 51-year-old has continued to serve in the government while undergoing a long programme of intensive chemotherapy and radiotherapy to fight a pancreatic tumour discovered at the end of 2009.
But friends and observers speak of a man who retains a cheerful demeanour and has lost none of his political drive.
Any assessment of Mr Lenihan's achievements will be coloured by wider opinions about the role of Irish politicians in the country's dizzying economic boom and bust.
He saw through three budgets in the space of 18 months as the crisis took hold, and was central to the establishment of the National Asset Management Agency (Nama) - the "bad bank" set up to absorb toxic Irish property loans with the aim of improving the availability of credit.
He has repeatedly referred to the debts of one of the main offending banks - Anglo Irish Bank - as "manageable".
That characterisation has been rejected by many Irish taxpayers, who baulk at the prospect of paying billions of euros of bad debts racked up by the banks while facing years of public spending cuts and tax rises.
Political calling
Nevertheless, Mr Lenihan's personal verve and political ambition mean in many eyes he is still seen as a future leader of his Fianna Fail party.
Mr Lenihan was born to a political heavyweight - his father, Brian Lenihan Senior, was a cabinet minister for more than 25 years.
His aunt, Mary O'Rourke has also held high office including a stint as a cabinet minister and his brother is a politician as well.
Mr Lenihan got involved in his first election campaign in 1974 aged 15 - and says that during the four-week election campaign for his father he "learned more in that time about politics than before or since".
He shone academically, studying law at Trinity College, Dublin, and then Cambridge University, before being called to the Irish Bar and going on to spend years in the legal profession.
But he was unable to ignore his political calling. In 1996 he was elected for the Dail, the Irish parliament, in his father's Dublin West constituency in a by-election triggered by his father's death, promising to abolish water rates and fight crime, drugs and high taxes.
He has gone on to hold three ministerial portfolios - becoming children's minister in 2002 and justice minister in 2007.
Mr Lenihan is married to Patricia Ryan, a judge, and they have a son and a daughter.
Mr Lenihan has been described as a social libertarian but a fiscal conservative. He is described as having an "infectious jauntiness" and a penchant for chewing cloves of garlic.
His announcement, in January, that he was to undergo treatment for pancreatic cancer while continuing to perform his essential ministerial duties, saw him saluted in the media for his "dignity and determination".
Although he has occasionally referred to his condition - "one day I had a pain in my stomach, the next day a life-threatening condition" - Mr Lenihan is generally loath to comment about his illness and his office offered no comment about his current state of health.
But in September he revealed he had finished his treatment in June, and said the cancer had "stabilised" but remained "a danger". He is not believed to have undergone an operation for the tumour.
'Brave'
Eilish O'Regan, health correspondent for the Irish Independent newspaper, has been following events closely since Mr Lenihan revealed he was ill.
She says Mr Lenihan has shown great courage.
"It does appear that he has been very brave. The treatment was very debilitating but he was able to schedule it so that he wasn't missing work - although of course he had to make some allowances. But he was still very busy - and obviously it took up a lot of energy. That's why he was delighted when the treatment was over."
Mr Lenihan's positive frame of mind in the summer following the end of his treatment is illustrated, Ms O'Regan says, by an anecdote. Mr Lenihan climbed the 796m (2,605ft) Irish peak Mount Leinster, and rang his aunt to tell her that he had reached the summit.
"It was symbolic," Ms O'Regan says.
Ms O'Regan says some voters have questioned whether a man with such a key public position should at the same time be battling such a serious illness.
"But they are very few," she says. "Many people have forgotten that he has the illness.
Even if Brian Lenihan is among the favourites to become the next leader of his party, there are many Irish voters who will find it hard to forgive his role in the current crisis.
For a week, he and his colleagues had tried to play down suggestions that a bail-out was in prospect and then, stony-faced, he announced on Sunday that that was exactly what was being asked for.
Protesters have accused him and Taoiseach Brian Cowen of national humiliation and treachery, yielding to external demands for a bail-out.
Brian Lenihan is due to present his fourth budget in early December, but political events may mean that this latest stage of his political career draws to a close first.