Europe's direct democracy in action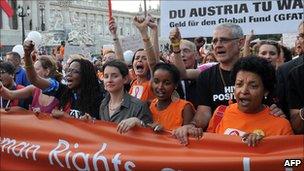 Direct democracy is coming to the EU, in the form of the European Citizens' Initiative.
With enough signatures ordinary people will have a chance to get laws drafted - but the precise rules of the game are still under discussion.
Similar initiatives already exist in many EU countries, but there are big differences in terms of scope and success. We asked reporters in the Netherlands, Austria and Slovenia to describe them.
THE NETHERLANDS - Klaas den Tek
The citizens' initiative - Burgerinitiatief - is the best example of direct democracy in the Netherlands.
Dutch voters can get issues on the agenda in parliament and spark debates. This doesn't mean politicians are forced to change policy immediately, but it does ensure a major public discussion.
Only citizens with Dutch nationality and eligible to vote can start such a petition. They have to put their name, address and signature on the proposal. Then a special commission in The Hague picks signatures on the petition at random and verifies them. To get a slot in the parliamentary schedule an issue needs to have the support of at least 40,000 people.
Dutch citizens are also allowed to petition for local policy changes. There the threshold is much lower - in some regions as low as 100 signatures, elsewhere 1,000.
It all sounds great in theory, but in practice there have only been three parliamentary debates following such citizens' initiatives. There was one on banning fireworks (60,000 signatures), one seeking to ban all smoking in public areas (also around 60,000 signatures) and one from an environmental group seeking to ban certain intensive farming techniques - that had more than 100,000 backers.
There was never a majority in parliament to back the proposed changes. So in the end, apart from publicity, the groups achieved very little.
It's the same story in local politics. The citizens' initiative was introduced there back in 2002, but in 63% of councils no one has even bothered to get an issue onto the agenda using the scheme.
Those who started initiatives in councils were, like at national level, well-established lobby groups. Signatures are usually collected through online campaigns as well as in town centres and shopping malls.
Klaas den Tek is a journalist at Radio Netherlands.
Austrians have the constitutional right to have their voices heard in parliament if they attract enough people to sign their citizens' petition.
The mechanism has highlighted concerns about nuclear and hydro-power, class sizes, reform of the state broadcaster, immigration, halting immigration, women's rights, GM food and post offices.
There is an appetite for more such direct democracy, says Johannes Pichler, a law professor at Graz University.
Since the mid-1960s in Austria 33 petitions have attracted more than 11.5 million signatures, an average of more than 340,000 each, all officially administered. Only one, in favour of motorcycling, failed to reach the 100,000 minimum.
The impact is hard to gauge. But the 353,906 signatures to a 1985 petition opposing the construction of a hydro-power dam on the Danube certainly played a part in persuading the government to scrap the plan.
The success of the campaign against the Hainburg hydro-power project also helped establish the political credibility of the then-fledgling Green Party, which still lists support of "direct democracy" among its core principles.
Petitions helped shape the political landscape on the right, too. In 1993 Joerg Haider secured the far right's grip on the Freedom Party (FPOe) with an "Austria First" anti-immigration petition, which prompted the departure of the party's liberal wing.
The Freedom Party's current chairman, Heinz-Christian Strache, has used a petition too, bagging 258,281 signatures for a 2006 petition opposing the Lisbon Treaty and calling for a referendum on Turkish accession to the EU.
But politicians prefer to be seen to be leading, rather than being led. So the 644,665 signatures gathered in favour of women's rights in 1997 garnered fine words, but no action. Yet politicians ignore public opinion at their peril.
Austria's far right would be the first to exploit the proposed European Citizens' Initiative, Prof Pichler says, but left-leaning opponents would soon make the case for environmental protection and human rights.
Most Austrians, he says, look with envy at what the citizens of neighbouring Switzerland can achieve. "I don't like the outcome of the Swiss referendum to ban the building of minarets, but I appreciate the mechanism."
"Human rights is all about self-determination," he says. Hitler denied Austrians a referendum on annexation by Nazi Germany in 1938, although a controversial plebiscite after the fact was overwhelmingly in favour.
Phil Cain is a freelance journalist based in Graz.
During 19 years of Slovenian independence 13 national referendums have been held here. Some local referendums were also initiated by citizens, including calls to set up new municipalities and to create or close landfill sites.
Slovenia, with a population of two million, has many instruments of direct democracy. For a bid to change the constitution at least 30,000 signatures are needed. With at least 5,000 signatures citizens can propose a new law. And with at least 40,000 voters can demand a referendum.
The system works quite well locally, where fewer signatures are needed, but that's not the case at national level, as the campaigners often fail to collect enough signatures.
There have been numerous unsuccessful referendum motions by citizens. Some were about neighbouring Croatia, like a motion last year filed by the 25 June Institute - a patriotic outfit - and the non-parliamentary Party of the Slovenian Nation, for a referendum on whether or not to ratify Croatia's Nato membership protocol. The initiative came to nothing because parliament passed a text upholding Slovenia's interests in relation to Croatia and the campaigners collected only 1,000 of the required 40,000 signatures.
Some movements say they will try to call a referendum on Croatia's membership of the EU. Croatia's bid has reached the final phase of negotiations.
Local referendum motions are mostly proposed by citizens' groups and small political movements. Turnout in such cases is generally high, as people are deciding on issues concerning them directly, such as landfill or a power plant in their area.
But national referendums in Slovenia are mostly initiated by MPs and people often regard them as an abuse of democracy for the purposes of political manoeuvering and blackmail. Many citizens also think referendums happen far too often and see them as a waste of taxpayers' money.
So national referendums are generally marked by low turnouts. Only twice did the turnout exceed 50% - for the referendums on Slovenia joining the EU and Nato in March 2003. Indeed, it would not be surprising if one day Slovenians held a referendum on having fewer referendums.
Maja Cerkovnik is a journalist at the Slovenian Press Agency (STA).