Parents rejoice as 21-year legal battle ends
By Sarah Rainsford
BBC News, Madrid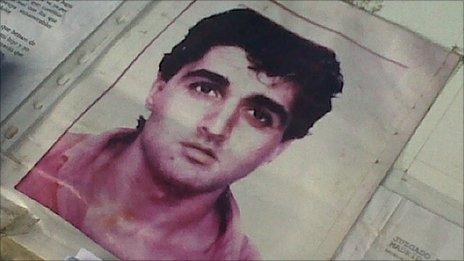 Outside the Justice Ministry in Madrid, passers-by have been kissing and congratulating two parents, who have spent the last 521 days camped out there in protest.
Inside a small, blue plastic shelter the family built themselves, is their son, Antonio Meno, who has been in a coma ever since cosmetic surgery on his nose went wrong, 21 years ago.
Now the family's prolonged legal battle to prove he is the victim of medical negligence is finally coming to an end.
Spain's Supreme Court has just ruled that lower courts were wrong to reject their case and order the family to pay 400,000 euros (£340,000; $550,000) in legal fees. That decision has now been overturned.
"After 21 years fighting for justice from morning to night, we're very happy," Mr Meno's father - also Antonio - smiles outside the tent, where a crowd of well wishers has gathered.
"It's like a light has finally been cast on everything. It's tremendous," he says.
That "light" was cast as a direct result of the family's 17-month street protest.
Ignacio Frade was passing the Justice Ministry in Madrid when he noticed the tent outside with its hand-painted banner demanding "Where is the Justice? In a Coma?"
But it was the photographs of Antonio Meno on the table outside that stopped him in his tracks.
The pictures show Mr Meno before his operation more than two decades ago, and the passer-by recognised a former patient.
Mr Frade "didn't say anything at the time," explains Mr Meno.
"But a week or so later we had a call from our lawyer, saying that man had been a student doctor, and was in the operating theatre with my son when things went wrong," he adds.
The private clinic where his son underwent surgery in 1989 had argued that he choked on his vomit during the operation, depriving him of oxygen.
The new evidence, presented to the Supreme Court earlier this month, described how the anaesthetist had left the room during the procedure and Mr Meno's breathing tube slipped out, unnoticed.
In 1993, a Madrid court ordered the clinic to pay almost a million euros in compensation to the Meno family.
That decision was overturned on appeal, leaving the family with a huge bill for court costs. The new testimony from the former doctor has now reversed the decision yet again.
"Antonio was 21 and he had a complex about his looks, like so many young boys - so he wanted the operation," his mother, Juana, explains, her eyes welling with tears.
"What happened then has destroyed a family."
Inside the tent, Mr Meno - a former law student - lies on a camp bed surrounded by cushions. His eyes flicker open at the noise but his mother has no idea how much he understands.
At 42, she has to change, feed and wash him "like a baby, only a baby who weighs 90kg".
"Looking at Antonio's face is what's given me strength to fight," Juana says, of the family's long battle for justice.
Now the verdict against them has been overturned, Juana and her husband are waiting to hear if they will have to continue their fight with a full retrial or if their lawyer can reach an out of court settlement to help fund their son's care.
Until then, they're staying put in their protest camp - just in case.