Spain outrage over migrant bombing game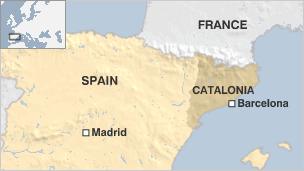 Spain's main opposition party has provoked howls of outrage for producing a video game which invites players to bomb illegal immigrants.
The video game, Rescue, was launched on the website of the conservative Popular Party as part of the party's campaign for regional elections in Catalonia.
It was removed hours after its launch, with the PP saying the developer did not follow instructions properly.
But opponents say the party has betrayed xenophobic leanings.
In the game, Alicia Sanchez-Camacho - the president of the PP branch in Catalonia - is depicted riding a white seagull called Pepe. She is dubbed Alicia Croft, in a reference to Lara Croft, the heroine of the popular video game Tomb Raider.
Points are awarded to players when they direct the bird to bomb aircraft containing illegal immigrants or symbols of Catalan nationalism.
Thousands of web users signed up to play the online game - which was also available in a mobile version - when it was launched on Tuesday, crashing the site, reported El Pais newspaper.
But only hours later it was removed from the website, and on Wednesday the PP issued a statement blaming the manufacturer for failing to follow directions.
Instead of bombing migrants, the PP said, the seagull should have targeted the organised crime groups that traffic them.
Popular Party spokesman Esteban Gonzalez Pon said the "realisation" of the video game "had not been as good as the original idea".
"It was a mistake," AFP news agency quoted him as saying.
"The idea was to have Sanchez-Camacho confront Catalonia's problems, which are unemployment, the independentist fever at the situation of many people without work, and the mafias that brought them here and keep them here," he told reporters.
"It's just a game," Ms Sanchez-Camacho was reported as saying, but her political opponents have lined up to condemn the party over the incident.
The deputy general secretary of the ruling Socialist Workers' Party, Jose Blanco, has urged the party not to associate itself with a "xenophobic current" or become an apologist for violence, reported Spanish news agency Efe.
Montserrat Tura, a member of the Catalan parliament, said it was "unacceptable that in such serious matters the PP makes video games which incite violence against and the elimination of those who are not them".
Artur Mas, the candidate for the Catalan nationalist party Convergence and Union, commented that "who plays with fire ends up getting burned", Efe said, while fellow rival candidates in the 28 November elections also denounced the game.
Immigration is a sensitive issue in Spain.
Migrants flocked to Spain to take up jobs created in the construction boom, but nearly one in three are now estimated to be jobless following the collapse of the industry amid the global recession.
Related Internet Links
The BBC is not responsible for the content of external sites.