Limerick victims died of stab wounds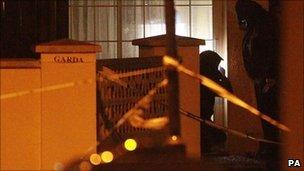 Post mortem examinations of the women and two children found dead in a house in County Limerick have confirmed they died of stab wounds.
Sarah Hines, 25, her children Reece and Amy, and family friend Alicia Brough, 21, had been dead for a number of hours when they were found.
Their bodies were discovered in the family's rented house on the Hazelgrove estate in Gortboy, Newcastle West.
The victims have now been formally identified by relatives.
Irish police sources have confirmed that the bodies of Ms Hines and Ms Brough were found downstairs, while the bodies of three-year-old Reece and his five-month-old sister Amy were discovered upstairs.
Gardai could not confirm whether or not a murder weapon had been found.
A 31-year-old man arrested in connection with the incident remains in custody. He is still receiving medical attention for a hand injury at Cork University Hospital.
About 50 Gardai are investigating the murders. A technical examination has begun at the house and will take a number of days to complete.
Ms Hines was originally from Essex and had moved to Ireland with her family when she was a teenager.
She and her children had only recently moved into the house in Gortboy.
Police arrested the 31-year-old suspect in the Limerick killings on Tuesday afternoon, hours after the four bodies were found in Newcastle West.
He was found in a pub in Kilkee, County Clare.
Apparently, the suspect had phoned a retired garda officer to tell him about the murders and the former officer had immediately alerted police.
According to the Irish Independent, the unnamed suspect was "briefly treated in the past as an outpatient for psychiatric care".
Related Internet Links
The BBC is not responsible for the content of external sites.