Russia checks claims of $4bn oil pipeline scam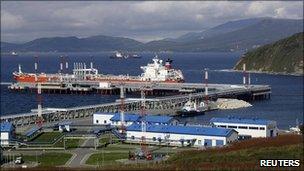 Russia is checking documents that suggest at least $4bn (£2.5bn) of state funds was stolen during the construction of a big oil pipeline.
Moscow blogger Alexei Navalny claims he has obtained documents that reveal the theft was uncovered in a 2007 audit of the East Siberia-Pacific pipeline.
Russia's Audit Chamber insists no formal investigation is under way.
Both the government and pipeline operator Transneft have refused to comment on the allegations.
Mr Navalny is well known in Russia for advocating the rights of minority shareholders of big companies.
The publication of the pipeline documents dating back to 2007 has led to a shocked response in Russia.
By Wednesday, his revelations had prompted about 6,200 comments.
Transneft has said it does not intend to respond to the "personal records of third parties".
Company spokesman Igor Demin told the BBC Russian Service that in legal terms a blog was no different from writing graffiti on a wall.
"We are not talking about publishing, but a recording in a personal diary. I will not comment on any entry in personal diaries."
An audit of Transneft was carried out in 2007, soon after a major shake-up of the company's management.
The results were published in part in February 2009.
Mr Navalny claims that he has obtained and published another part of the report that had been classified.
In the past, he has looked into the financial activities of other major Russian companies - such as Gazprom, VTB and Rosneft.
There has been no comment from any of the people named in his latest allegations.
When finished the pipeline will supply crude oil from Siberia to the Pacific coast, bringing Russian oil to Asia-Pacific markets.
Related Internet Links
The BBC is not responsible for the content of external sites.