Brazilian police crack international drug network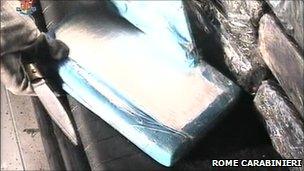 Police in Brazil say they have arrested 22 people as part of an 18-month effort to break an international drug syndicate.
The arrests are the latest in Operation Desert, targeting a group smuggling Bolivian cocaine to Africa and Europe.
A total of 50 arrest warrants were issued during the operation and those held include Colombians, Bolivians and Europeans, as well as Brazilians.
Police also seized two planes, weapons and several tonnes of cocaine.
Officials said in addition to the 22 arrested on Wednesday, a further 20 suspects were already in prison, and eight - one Brazilian and seven Europeans - remained on the run.
Guilherme de Castro Almeida of the federal police's drug enforcement department said Interpol had been asked to detain seven European suspects, but he would not reveal their nationalities or whereabouts.
One of the two planes confiscated during the operation, Mr Almeida said, was a small craft used to fly cocaine from Bolivia.
A total of 2.3 tonnes of the drug were found in warehouses along with heavy calibre weapon, anti-tank grenades and 33 vehicles.
Mr Almeida said law enforcement agencies from other South American nations and Europe helped Brazilian police break the gang.
The drugs were carried on cargo ships carrying soybeans and other Brazilian products to Africa, Mr Almeida said. Smaller vessels then transported the drug on from Africa into the European market.
In a separate seizure on Tuesday, Italian police say they discovered a tonne of pure cocaine, hidden inside four tractors shipped from Brazil in the port of Gioia Tauro in southern Italy.
Italian officials also said on Wednesday that they had seized drugs worth $6.8m (5m euros) at Rome's Fiumicino airport smuggled by passengers from Brazil and Argentina.
The drugs were hidden in baggage trolleys and sewn into the pockets of jeans.
Related Internet Links
The BBC is not responsible for the content of external sites.