France accuses Iran of violence at Tehran embassy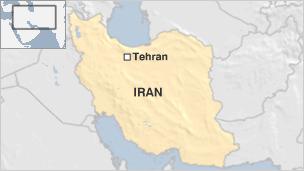 France has accused Iranian security services of committing "unacceptable acts of violence" on French diplomatic personnel in the Iranian capital.
The entry to the French embassy residence in Tehran was blocked by unidentified officials on Sunday, said the French foreign ministry.
"[They] proceeded to arrest guests of the French ambassador and carried out unacceptable acts of violence against French diplomatic personnel," it said.
Iran has not commented on the claims.
Correspondents say the incident is the latest signal of ongoing tensions between France and Iran, partly strained by France's tough stand on Iran's nuclear program.
The violence happened as guests gathered at the embassy for a celebration of traditional Persian music, French officials said.
Iranian plainclothes security forces and uniformed police stopped about two-thirds of 130 invited guests from entering the building, said a French official.
The unnamed official said a French diplomat was hit in the face during the fracas, and AP news agency reported that an unknown number of people were seen being taken away in lorries.
"Following the incidents, the French authorities summoned Iran's ambassador in Paris to convey in the strongest possible terms this extreme violation of the Vienna Convention," said the French foreign ministry statement.
The news comes hours after reports that Iran had charged two Germans with spying after they interviewed the son of Sakineh Mohammadi Ashtiani, the woman sentenced to death by stoning for adultery.
They have been identified only as a reporter and a photographer. Germany has said it is doing all it can to secure their release.
Related Internet Links
The BBC is not responsible for the content of external sites.