Elton John gig in Italy probed by EU over funding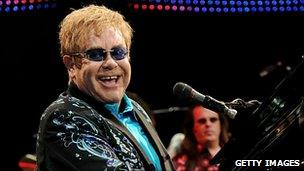 The European Commission says it wants to know why Italian officials spent 720,000 euros (£613,000) of EU cash on a concert by Sir Elton John last year.
"We're asking the managing authority about this. We want to know why they think it fits in with the rules," the Commission's regional policy spokesman Ton van Lierop said.
The expenditure only recently came to light, he told the BBC.
The concert was part of the Piedigrotta festival in Naples in September 2009.
A right-wing Italian Euro MP, Mario Borghezio of the Northern League party, called it a "shameful" misuse of EU funds by the Campania regional authority.
The Commission does not know how much was paid to Sir Elton John for the gig, Mr Van Lierop said.
Cultural projects can be co-financed by the Commission and regional authorities in the EU, he explained, "but we want to know why this concert benefited this region".
The investigation is part of a broader audit of EU-funded projects in Campania, currently under way.
The Commission's regional development budget is used to fund many projects across the EU. The local authorities are responsible for allocating funds when the project costs less than 50m euros, Mr Van Lierop said.
One of the Piedigrotta festival organisers, Dario Scalabrini, said 600,000 euros of EU money had been spent on the concert. He defended the expenditure, saying it had been used to promote Naples and had generated business locally.
The concert money came out of an EU regional programme for Campania that cost 2.25m euros, Mr Van Lierop said.
Sir Elton holds the record for the world's best-selling single - a version of Candle in the Wind that sold more than 33 million copies when it was released in tribute to Princess Diana in 1997.
If the Commission finds that the money was mismanaged in this case, Mr Van Lierop said, it will ask the Italian authorities to deduct the amount from the next claim they make under the Campania funding programme.
Failure to do so would result in a corresponding cut in the amount made available by the Commission in future, he said.
Development funding for the EU's poorest regions, known as the Cohesion budget, is the second largest item in the EU budget after farm spending. The draft Cohesion budget for 2011 has been set at 42.5bn euros.
The Commission is reviewing its priorities for the next funding period, 2013-2020, and is proposing "much stricter conditions as well as incentives to ensure the effective use of the funds", with "an increased focus on results".
The Regional Policy Commissioner, Johannes Hahn, said "we need to spend more intelligently, focus on the EU's top priorities and add visible value to what national and regional authorities are already doing".
Related Internet Links
The BBC is not responsible for the content of external sites.