Sarkozy makes first trip on controversial new jet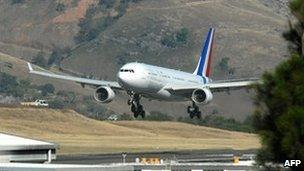 French President Nicolas Sarkozy is set to make his first trip aboard his new official plane later on Thursday.
He is heading to South Korea for the G20 summit after attending the French 11 November ceremonies on Thursday.
Dubbed Air Sarko One, the new jet features a double bedroom, an air-conditioned smoking room and an anti-missile system.
There has been controversy over the cost of the 180m-euro (£150m) jet as France battles economic recession.
The Airbus A330-200, which was bought second-hand and refurbished, has a double bedroom with en-suite bathroom immediately behind the cockpit.
This links to a private office where an air filter system allows the president to smoke cigars.
There is also a conference room, a high-tech communications room and a small operating room.
This is followed at the back of the plane by a 60 club-class standard seats for ministers, aides and favoured journalists travelling with the president.
Cabin crew or those "less close" to the president are sent to a cramped 12-seat economy class cabin at the back of the plane.
Earlier this week, a Socialist MP made a written request to the transport secretary to obtain more information on the cost of the new plane. which was ordered two years ago.
Government officials have defended the purchase of the private plane.
Spokesman Luc Chatel has said it was "nothing ostentatious".
Related Internet Links
The BBC is not responsible for the content of external sites.