Turkey's ambassador to Austria prompts immigration spat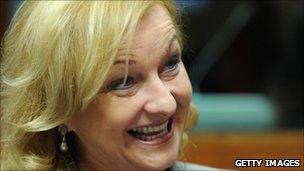 Turkey's ambassador to Austria has been summoned to the foreign ministry in Vienna for criticising attitudes towards immigrants.
Kadri Ecved Tezcan said that Turks were quite happy in Austria but did not wish to be treated "like a virus".
In an interview, he added that if he were the head of an organisation such as the UN he would not stay in Vienna.
The foreign ministry said it was very unusual for a diplomat to behave in such a manner.
Responding to the interview with the Austrian daily Die Presse, Austrian Foreign Minister Michael Spindelegger spoke by telephone to his Turkish counterpart Ahmet Davutoglu, on Wednesday morning.
An hour later, Mr Tezcan arrived at the ministry to discuss his remarks.
In the interview with Austrian daily Die Presse, the ambassador complained that Turks were often accused of creating ghettos even though he said it was Austrian housing policy that sent them to the same neighbourhoods.
"You must learn to live with others," he said. "What's Austria's problem?"
Mr Tezcan also called on Austria's Interior Minister Maria Fekter to keep away from issues of integration, arguing that the only solution her ministry offered involved the police.
A seasoned diplomat, Mr Tezcan, 61, became ambassador to Austria last year.
He was also critical of remarks by German Chancellor Angela Merkel in which she argued that multiculturalism had failed.
An estimated 350,000 people of Turkish origin live in Austria.
The issue of Turkish integration in both Germany and Austria is due to be addressed in the spring at a conference hosted by the Austrian government.
Related Internet Links
The BBC is not responsible for the content of external sites.