Farmers win privacy fight over EU funding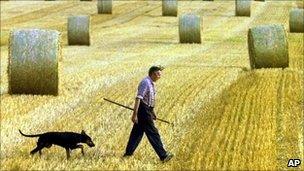 The EU's top court says the EU must stop publishing data about individual farmers who receive subsidies under the Common Agricultural Policy (CAP).
But the European Court of Justice (ECJ) ruling does not affect data about agricultural firms, so the size of their subsidies can still be disclosed.
The case was brought by three German farmers who demanded data protection under existing privacy laws.
Since May 2009 the 27 EU member states have been obliged to publish CAP data.
CAP subsidies, which include grants for rural development, account for nearly half the EU's budget. In 2010 the CAP total was 58bn euros (£48bn).
Major beneficiaries include rich landowners such as the British royal family and European aristocrats with big inherited estates, according to farmsubsidy.org, a group campaigning for EU transparency.
The European Commission says that transparency of EU funds is one of its priorities and that taxpayers have a right to know how the CAP money is spent.
The end of April is the deadline each year for disclosing how the CAP money was spent in the previous financial year.
But in their ruling on Tuesday the judges said the regulation failed to strike the right balance between individual privacy and the need for transparency.
They argued that transparency was not properly served by publishing the names of individual farmers and the amounts received, without specifying the duration of the payments, their frequency or their purpose.
The Commission says its lawyers are now studying the ruling to see whether the current rules on transparency can still be made to work, or whether a new regulation is needed. The ruling is final, so there is no right of appeal.
The Commission's agriculture spokesman Roger Waite told the BBC that the Commission "remains committed to transparency".
A new proposal on CAP transparency could take two years to be approved, as it would have to be agreed with EU governments - the Council - and pass through the European Parliament, he said.
Farmers registered as a company, rather than self-employed, will still be covered by the current data disclosure rules, he said.
Related Internet Links
The BBC is not responsible for the content of external sites.