EU gives boost to Montenegro membership bid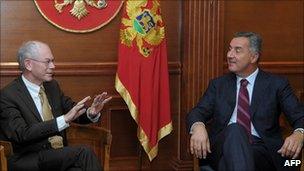 Montenegro has made significant progress towards opening formal talks on EU membership, the European Commission says.
The Commission says the EU should grant Montenegro candidate status. That would put it in the same queue as Croatia, Macedonia, Turkey and Iceland.
Croatia is on course to become the 28th EU member state. Talks are entering the final phase, the Commission says.
A dispute with Cyprus continues to delay Turkey's progress towards the EU.
Montenegro's Balkan neighbours Albania, Bosnia-Hercegovina and Serbia are further behind in the queue to join the EU.
But on Monday the 27 EU governments agreed that citizens of Albania and Bosnia-Hercegovina would soon enjoy visa-free travel to most EU countries.
The visa-free regime is expected to start in mid-December. It will apply to travellers who have biometric passports and will cover the Schengen zone countries. Nearly all EU member states are in Schengen, where border controls are usually minimal.
Citizens of Macedonia, Montenegro and Serbia have already enjoyed visa-free travel to the Schengen zone for nearly a year. Residents of Kosovo still have to apply for visas.
But for accession negotiations to open the former Yugoslav republic "needs to intensify its efforts to consolidate rule of law, in particular in the fight against corruption and organised crime, which remain serious problems," the Commission says.
On Turkey, the EU Enlargement Commissioner, Stefan Fuele, said "we are concerned that Turkey's accession process is losing its momentum".
The Commission report called on Turkey to fully implement its obligations under the EU customs union and regretted that "there is no progress towards normalisation of bilateral relations with the Republic of Cyprus".
Turkey began accession talks in 2005 but failed to ratify the customs union, keeping its ports and airports closed to Cypriot traffic. Only 13 of the 33 areas of negotiation - known as "chapters" - have been opened in Turkey's EU bid.
The Commission also said Turkey must show "further results... as regards fundamental rights, in particular to assure freedom of expression in practice".
Earlier, Turkey's President Abdullah Gul said it was not up to Turkey to make a gesture to reinvigorate the process.
"To overcome the impasse, Turkey should not be expected to make a gesture because I know how it works," he told the BBC's Turkish Service on Monday.
"Turkey is always expected to do this. It does, but when you cannot get anything in return it makes no sense to make a new or another gesture.
"We made the biggest gesture in 2004 by saying Yes to the Annan plan [on Cyprus reunification]. It was later put to a referendum: Turkish Cypriots endorsed the plan in the referendum, but they did not get anything in return."
Related Internet Links
The BBC is not responsible for the content of external sites.